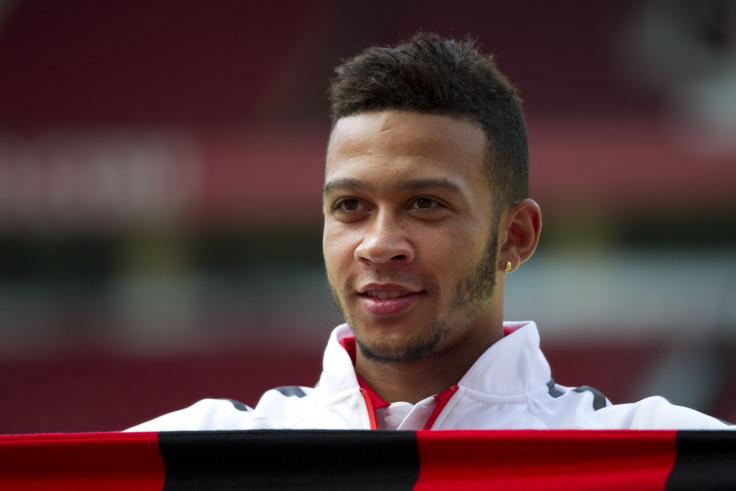 Memphis Depay wants to be the solution to Manchester United's shortage of strikers by building a partnership with captain Wayne Rooney during the coming season.
Manager Louis van Gaal has said the club are planning a "surprise" addition to their squad in order to bolster their attacking numbers, which are down to three after the departures of Robin van Persie and Radamel Falcao.
Rooney, James Wilson and the returning Javier Hernandez, who spent last season on loan at Real Madrid, are the only strikers available to Van Gaal with less than three weeks to go before United's opening Premier League game against Tottenham Hotspur on 8 August.
And though Depay, who moved to Old Trafford in a £25m ($38.9m) deal from PSV Eindhoven, is preparing for his first season in the Premier League, he still wants to be the player to partner Rooney to success this term.
"Wayne coached me a lot through the game and talked to me about which position I should take and when to defend," he told the club's official website of his debut in the 1-0 friendly win over Club America.
"We have to form a duo and I have the right feeling with him. It's an honour to play with such a legend like Wayne.
"It was a crazy feeling to make my debut and a very special one. To think where I came from to where I am now, making my debut for Manchester United. I'm very happy.
"It was 45 minutes and only pre-season but the focus is on keeping my body in shape. It was important to win the game and we did that."
United are yet to confirm their squad numbers for the new season but Depay was handed the number nine shirt for the club's opening pre-season fixture, an indication of the central role the Netherlands international could play.
Fellow new boy Morgan Schneiderlin scored the only goal as United began their summer schedule with a win, and though Depay impressed during his 45-minute cameo he is well aware he must improve.
"The manager said congratulations on my debut afterwards, he was happy for me," he added. "He expects much more from me as well and that's important for me to work on. I had some moments and some passes but I expect more from myself. I'll keep focused and keep training hard."