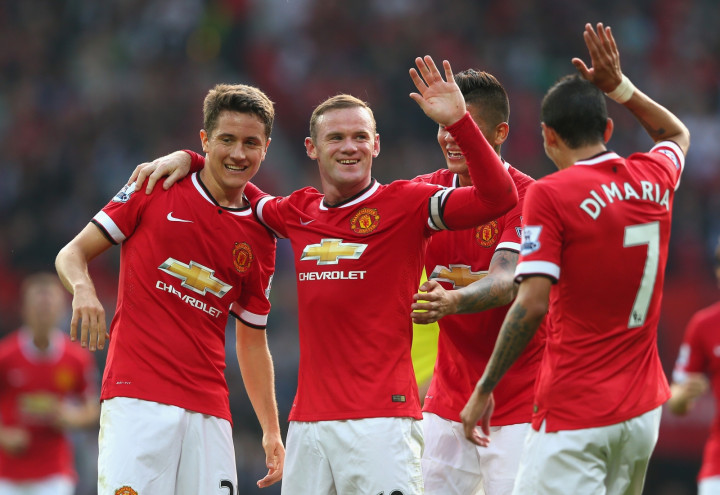 Manchester United legend Bryan Robson has identified the grit and determination of the new signings at Old Trafford as the most important factor in reversing the club\'s fortunes.
Five of the club\'s six new faces featured on Sunday as Louis van Gaal\'s new-look side registered their first win of the season, thrashing Queens Park Rangers 4-0.
While Angel di Maria and Ander Herrera blossomed in more advanced midfield roles, Daley Blind came in for glowing praise for his industrious performance behind them while Marcos Rojo also enjoyed a stellar debut at left back.
Radamel Falcao\'s impressive cameo off the bench provided further reason for optimism, and former skipper Robson believes there were positive signs suggesting the winning mentality that evaporated last season has been restored.
\"It was important that we bring in some real star quality into the team,\" Robson told United Review. \"It sends out a message to everybody both inside and outside the club, reminding them who we are.
\"You need the temperament and mentality to play for Manchester United when it really matters and, at times during our opening games, we\'ve been without that mentality.
\"You can see the ability there in the players, but people seemed to slip back into how they were last season.
\"If you\'re going to be a Manchester United player, you need to be able to handle pressure. When you look at Blind and Rojo as players, they both have the grit and determination that you need in those situations.\"
Of United\'s six summer signings, only Luke Shaw is yet to make his full debut for the club. After suffering a hamstring injury ahead of the new season the 19-year-old was only fit enough to take up a place on the bench in the win over Harry Redknapp\'s side.
Shaw may be in contention for next Sunday\'s visit to Leicester City after completing 90 minutes for the under-21 side in a 4-0 thrashing of Sunderland.