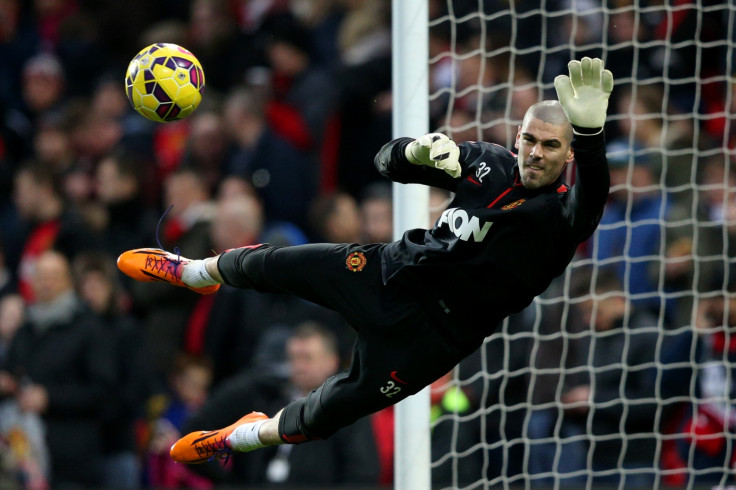 Manchester United's newest acquisition Victor Valdes is "nowhere near done" at the top level, according to his teammate Chris Smalling.
Valdes was handed an 18-month contract with the option of a further year in January having spent the last three months training with the club.
The ex-Barcelona shot-stopper struggled to find a new team after a knee injury scuppered his prospective move to Monaco last summer but he sufficiently impressed United manager Louis van Gaal and in turn earned a deal with the club.
While the 33-year-old is yet to make his debut for the club, as he remains behind David de Gea in the Old Trafford pecking order, Smalling has spoken enthusiastically of the Spaniard's instant impact.
"He [Valdes] is someone that we all look up to through what he has achieved already in his career but you can see that he is nowhere near done yet," Smalling told United's official website.
"On the training field he is so sharp and you can see that he is very agile. He's such a great addition and is a name that really belongs here at Manchester United.
"We've heard quite a few stories from him and quite a few people here have asked him questions. Barcelona is another great club and you want to get some insight of what happens abroad as well."
Valdes, one of the most decorated goalkeepers in Europe, has taken a place on the bench in United's last two games but is expected to be handed his full debut against Cambridge United in the FA Cup fourth round tieon Friday 23 January.
His arrival in Manchester has fuelled further uncertainty over the long-term future of De Gea, who remains intensely linked with a move to Real Madrid. But Van Gaal suggested upon the veteran's arrival that Valdes had joined as 'the number two goalkeeper' at the club.