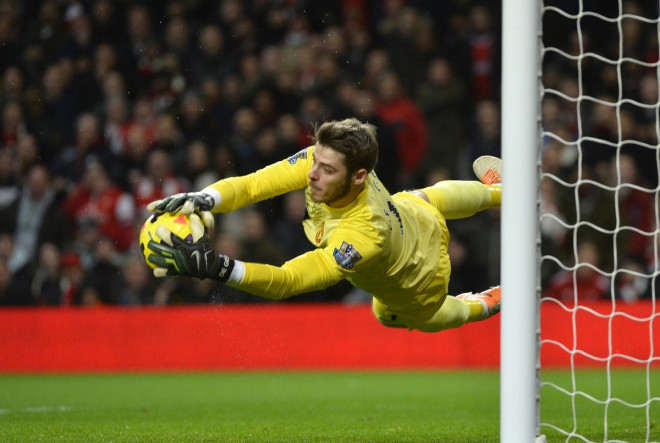 David De Gea has claimed that beating Olympiakos in the Champions League last 16 gave Manchester United's squad the self-confidence to face the rest of the season with more authority.
After being beaten 2-0 in the first leg in Greece, United registered a 3-0 victory at Old Trafford to book their place in the quarter-finals.
And De Gea believes that United have improved since then, even though they lost 3-0 against City. Moyes' side beat West Ham and Aston Villa before their impressive 1-1 draw against Bayern Munich.
"The victory over Olympiakos gave us a lot of confidence. Overturning a game like this to go through the next round was very important" De Gea said to Spanish radio Station Onda Cero.
"We have proved against Bayern, we have defended very well and I think with a little bit of precision we would have won.
"We could win even knowing that we had one of the best teams in the world. Everyone thought that Bayern would go through with an easy victory but we have shown that Manchester United are already a great team and we can still win the tie."
United will travel to Germany next week, hoping to secure a result to go to the semi-final.
"The tie is still very open. We will try to play the same game. Closing spaces in the defence and beat them with our counterattack" De Gea said.
Bayern Munich will miss suspended stars Bastian Schweinsteiger and Javi Martinez and with Thiago Alcanta also injured, De Gea claims that United have to take the opportunity to beat them.
"They have a big bench but obviously [those suspended] are two important players and hopefully we could use it in our favour."
Furthermore, De Gea admits that United miss Juan Mata, as his Spanish friend is cup-tied after having played for Chelsea earlier this season.
"He is a player that has great quality and it's a shame he cannot play. We miss him. He is playing very well and he is very important."