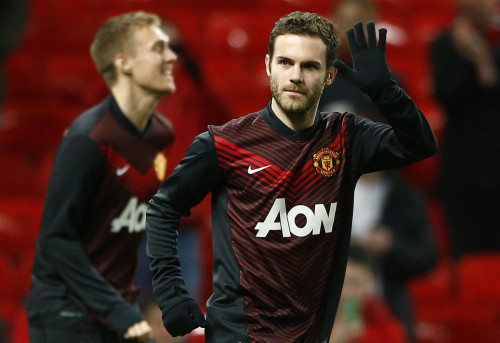 Manchester United's January signing Juan Mata has admitted that David Moyes' side are definitely out of the race to win the Premier League and are solely focused on finishing in the top four.
The Spanish maestro was very optimistic over United's tittle credentials two weeks ago during his official presentation as the club's latest big-money signing, but after their latest defeat against Stoke, he has throwed in the towell.
United are currently seventh in the table, 15 points behind leaders Arsenal, having already suffered eight league defeats.
Asked in an interview with Spanish Radio Station Cadena Ser who will win the Premier League he said: "It is a difficult question but it will be between Arsenal, Chelsea and Manchester City.
"Unfortunately we are too far away. Other seasons Manchester United used to fight for the tittles but this year we are going to fight to get a place in the next Champions League.
"Obviously Chelsea, Arsenal and Manchester City are the favourites to win, they have been the most consistent during the first part of the season. Chelsea's latest victory against Manchester City has been very important, because winning at the Etihad is a boost but we will see what happens at the end."
Nevertheless, the Spaniard is enjoying his new experience at Manchtester United as the team has given him an amazing welcome and he has played the first two games as a starter.
"I am very happy. I have had a really good welcome from my new teammates and the supporters" Mata said.
"Giggs, who is a legend, Rooney, Van Persie... all are very kind and since the very beginning they have helped me to make me confortable."
Despite two excellent seasons at Stamford Bridge, Mata was a peripheral figure under Jose Mourinho at Chelsea this year and he is very happy about his decision to move away to get more playing time.
"I am happy because every player wants to play. I was not playing as much as I wanted at Chelsea and since I arrived in Manchester I have played the two games. That's made me happy".