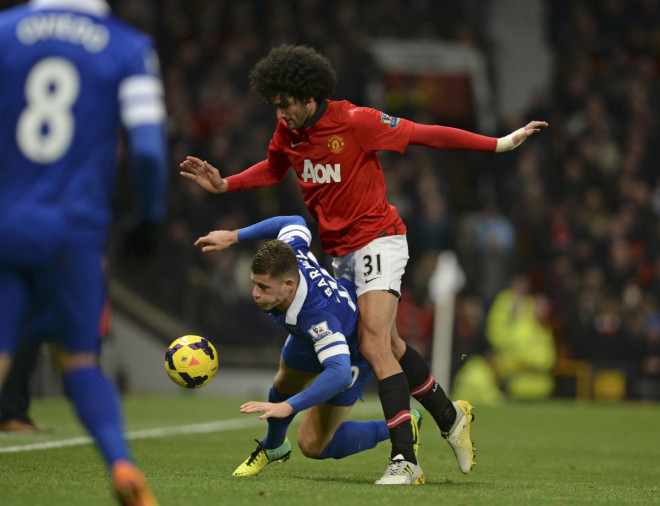 Marouane Fellaini has asked Manchester United fans to be patient with David Moyes, as the Premeir League holders continue their transition after Sir Alex Ferguson's retirement.
The Belgium international midfielder followed Moyes from Everton to Old Trafford last summer on deadline day, after United paid £27.5m to secure his services. However, Fellaini has failed to replicate his form at Goodison Park, where last season he was Everton's top scorer with 12 goals in all competitions.
Even though the pair have struggled in their debut season at Old Trafford, Fellaini believes that Moyes has the potential to follow in Ferguson's footsteps.
"Man United had the same manager for 26 years - to change that is not easy for anyone. The supporters and everybody else has to give him time," Fellaini told Sky Sports.
"What makes United different is that they stand by managers. You look at the career of Sir Alex Ferguson and he managed the club 26 years. You have to give David Moyes time as well. He is a strong character. That's why he can take the pressure. Given time he will be good for Manchester United."
Moyes was the one who brought Fellaini to the Premier League in 2008, when the former Everton manager signed him from Standard Liege for £15m.
"I can only say a huge thank you because I learned so much from him. When I arrived at Everton he spoke to me about English football, the life and the style of the country. Also at Man United he spoke to me about life there as well. It is important because we have football but we also need a life as well," Fellaini added.
"I played a lot of games for Everton and had some very good moments there. I could never say something bad about him because he has done everything for me. When I played bad he told me. When I played well he told me. When I have a bad demeanour on the pitch he tells me."
Fellaini has only made nine Premier League starting appearances this season. He has missed 11 games through injury and even when he has been fit Moyes has opted to use other players instead. Nevertheless, the midfielder is grateful for his manager's trust.
"When it's bad off the pitch he tells me that as well. It's important for me that when I am good he tells me. And when I am bad he does the same. Last season when I was suspended for Stoke City [after a headbutt] he was very hard on me. He made me go back out and train alone with him. I was like his son and I had been bad so I took my punishment.
"He is the most important person in my career. I could never say something bad about him because he has done everything for me. He has done so much for me that of course I want to repay him at Manchester United."