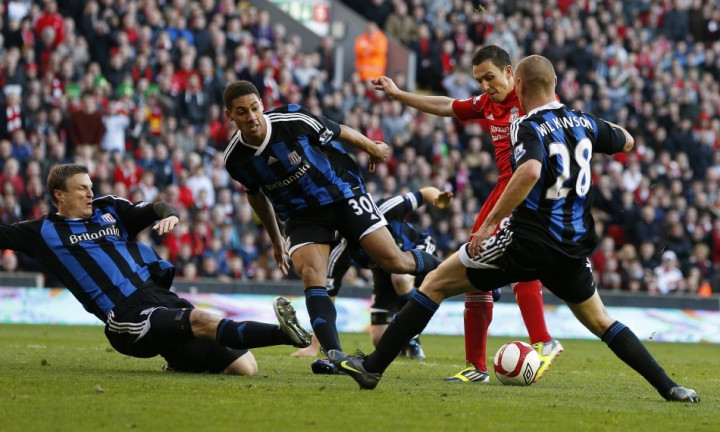 Stoke City defender Andy Wilkinson has warned Manchester United against taking the Potters lightly. The clubs will resume Premier League duties this weekend, after the international break.
"We shouldn't be afraid to go anywhere, and teams should be afraid of us. It's never going to be easy to go to the big clubs, but the gaffer gets us really well organised. We are always hard to play against, because we give everything we've got," the 28 year old told Sky Sports.
Sir Alex Ferguson's side have already lost twice this season and the most recent one - at home to rivals Tottenham - could weigh on his player's minds when they entertain Tony Pulis' side on 20 October.
The Red Devils have had a well-publicised injury crisis to their defensive options, with veterans Rio Ferdinand and Nemanja Vidic and youngsters Chris Smalling and Phil Jones all out injured at some time or the other, leading to the use of central midfielder Michael Carrick as a makeshift defender. Ferguson, however, will be pleased that Smalling and Jones are expected to return to first team action very soon. Vidic, however, is expected to take longer, having just had knee surgery.
With that injury crisis in mind, Pulis will be hoping to hold United to a draw this weekend. The Potters have already held the Gunners, Manchester City and the Reds to creditable draws this weekend and will be confident of doing the same this time around. Stoke have now been in the Premier League for five straight years and despite criticism of their style of play, they remain defiant.
"You dream of playing at places like that [Old Trafford], but once you get out there you have to get on and do your best. This club has come so far in the last five years it's unbelievable, with the players we've got here," Wilkinson added.
However, both Stoke and United will be wary of fatigued internationals, with a number of players from both sides having represented their countries in either international friendlies or World Cup qualifiers in recent days.
Stoke are presently 12th in the league, with eight points from seven games. Pulis' men have lost just once this season. United, meanwhile, have already been beaten twice but are second with 15 points from seven games.