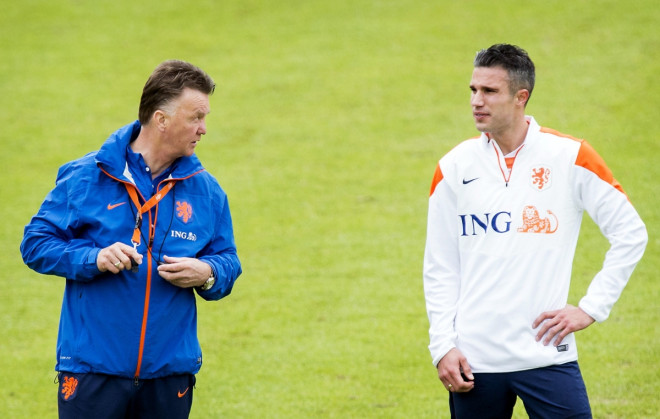 Manchester United striker Robin van Persie remains the favourite to captain the club from next season under new manager Louis van Gaal after providing an insight into the pair's close relationship.
The departure of club captain Nemanja Vidic means the armband is currently vacant ahead of the new campaign with Van Persie – the current Netherlands skipper – the frontrunner for the role ahead of strike-partner Wayne Rooney.
Van Persie has spoken of his delight at the appointment of van Gaal – who begins his position at United after the World Cup – and says he has a unique relationship with the 62- year old.
"We've had many great conversations over the past two years about football but also about other things," he said. "You don't have that bond with every coach
"He has a different approach to the other coaches I've worked under, but I like it a lot. He is very clear and honest - he says when something is good and when something is not good, but there is always room for discussion.
"He creates a very relaxed atmosphere, but he is typically Dutch: direct. Boom! He has only one aim, and that is to improve. I don't find that exhausting - I find it energising. Wonderful."
The closing months of David Moyes' reign at United was riddled with reports of a slip in standards in training, with players refusing to adopt the Scot's philosophy which led to a number of high-profile fallings-out.
But Van Persie says Van Gaal won't stand for such a dip in standards and that the United squad should be ready for "intense" training sessions.
"Every training session is really intense," he added. "The coach is onto you every second. If you start flagging for even a moment, you'll get to hear about it. He's very direct with everyone, myself included.
"We don't do training sessions for two-and-a-half hours - they're usually an hour and 15 minutes or so - but they are incredibly intense. Everyone gets better. Every day, I see the level of all players improving."