Manchester United summer target Thomas Müller admits Premier League wages are 'very tempting'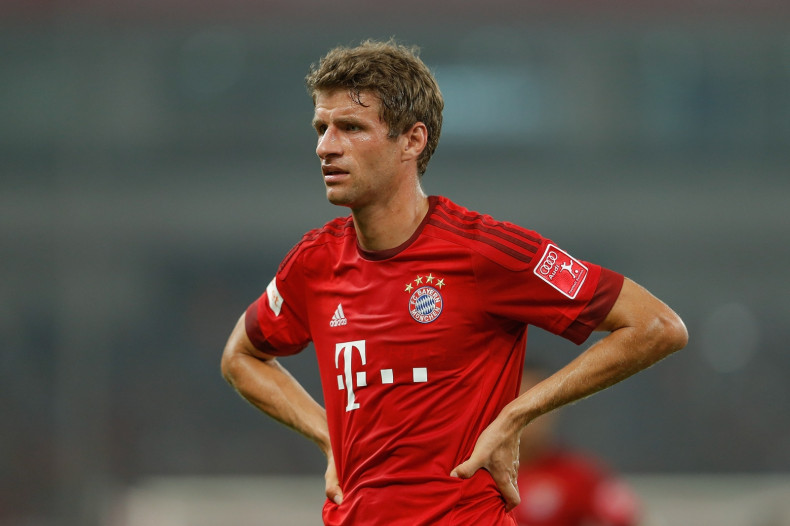 Bayern Munich star Thomas Müller has admitted that the wages paid paid in the Premier League are very "tempting" for the footballers, following the huge speculations linking with a move to Manchester United during the summer transfer window. Having coached him during his time at the Bungesliga giants, Louis van Gaal was reportedly likely to reunite with him at Old Trafford to make him the leader of his attack following the departures of Ángel Di María, Radamel Falcao and Robin Van Persie.
The German newspaper Bild claimed during the summer that the Premier League giants launched a €100m (£74m) bid to make Müller their marquee signing of the summer. Bayern Munich chief executive Karl-Heinz Rummenigge recently appeared to confirm the United interest in the player but warning them to make a new proposal – having previously admitted the Bundesliga giants rejected a huge bid for the forward from an unnamed club.
"I am not a banker. We are a football club. That is why we never even considered selling Thomas Müller," Rummenigge said recently as quoted as saying by ESPN. "I told my colleagues at Manchester United: 'I cannot close down my email account, but you no longer need to send me anything. It is useless.' He's under contract for another four years. He'll stay – no matter what is offered. There is no price I would even start considering it."
United eventually turned their attention to Anthony Martial on deadline day, due to the Bundesliga giant's refusal to negotiate his departure. But Müller has now reopened the speculations over a future move to the Premier League after admitting it would be 'hypocrisy' to say that the wages paid in England do not tempt him.
"In the end, we should not forget that playing football is our job," he said during an interview with Die Welt. "So people should accept that wages will always play a role in a player's decision-making. Of course, the wages that are being paid in the Premier League are very tempting. It would be hypocrisy to deny that.
"You have to look at the complete package to determine whether something is right for you. What's good for you one day will not necessarily still be good for you the day after.
"I know that a lot of German clubs are unhappy with the Premier League clubs' spending, but I think it is something good for all clubs in the end. It can only be a good thing for football when clubs invest so much money."