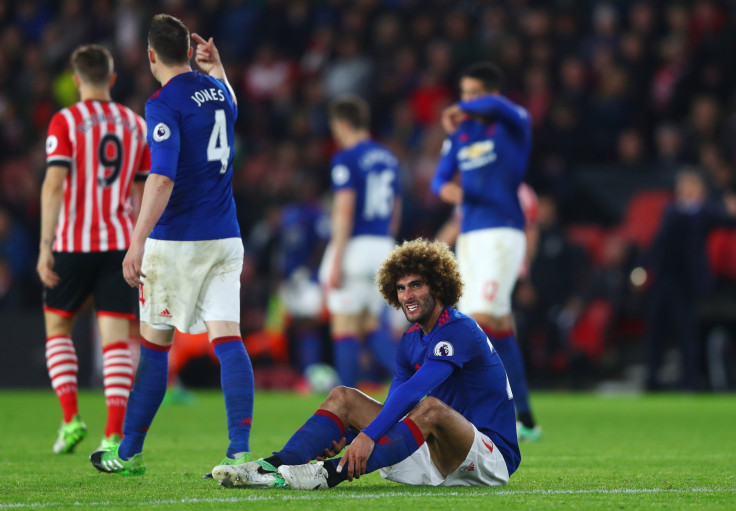 Manchester United manager Jose Mourinho is still sweating on the results of Marouane Fellaini's injury scans ahead of the Europa League final against Ajax on Wednesday (24 May). Meanwhile, Chris Smalling will miss the weekend's clash with Crystal Palace but him Paul Pogba and Tim Fosu-Mensah are expected to be available for the Stockholm final.
Fellaini was forced off and replaced by Ander Herrera in the 75th minute of Wednesday's goalless draw at Southampton after picking up a hamstring issue.
The Belgium international has become a key player for Mourinho in recent weeks after making his starting line-up in both legs of the Europa League semi-final against Celta, scoring a crucial goal at Old Trafford.
Fellaini told BBC reporter Simon Stone that he is optimistic of being available to face Ajax but Mourinho is still waiting for the scans to make a final decision on his availability.
"Marouane Fellaini is the question mark; we wait for today's scans, we decided not to do it yesterday. Again, his feelings aren't bad, but let's wait," the United boss said in the press conference ahead of the visit of Crystal Palace.
Meanwhile, Paul Pogba will surely be in the line-up against Ajax as the Mourinho revealed that the Frenchman will return to action against Palace after missing the last two games following his father's death.
"Paul Pogba is fine. A strong guy, strong mentality. He's learning how to live after his father passed away, but he is strong," the United boss said. "He knows that he needs to play on Sunday because he hasn't played or trained for a long time and he needs these minutes on the pitch, so he plays against Palace.
Mourinho also expects to have Smalling recovered for the final despite ruling him out for the visit of Palace due to a minor injury. Furthermore, the Portuguese tactician also provided positive news on Fosu-Mensah as the versatile youngster is going to return to action against Palace in order to prove his fitness for the final.
"Chris Smalling has a problem, but a small problem that I think is no problem at all for next week. It's a problem for the weekend but not for the final," Mourinho added. "Tim Fosu-Mensah plays on Sunday and, if the reaction is good, and if he manages to play the game without problems, he's a new option for us for the final."
Fosu-Mensah will be accompanied by a number of other youngster as Mourinho confirmed that a number of players from the academy will be involved against Palace.
"You will have the two goalkeepers, Joel Pereira and Kieran O'Hara," explained Mourinho. "We will have Demi Mitchell, Scott McTominay, Josh Harrop, Matty Willock, Angel Gomes and Zachary Dearnley. I think that's it. Plus Tim Fosu-Mensah and Axel Tuanzebe, so lots of them."
"I think one [young player can play] in the middle of a good structure, a dynamic structure, an experienced structure, yes. But as for lots of them together, I think no [they aren't ready].
"I will bring three of four of the first-team players, you know, to play one half each. I can give a little bit of experience to the team but, at the same time, save them all for Wednesday. I don't know [whether] Wayne [will play] or not, he played 90 minutes in the last match, so probably not."