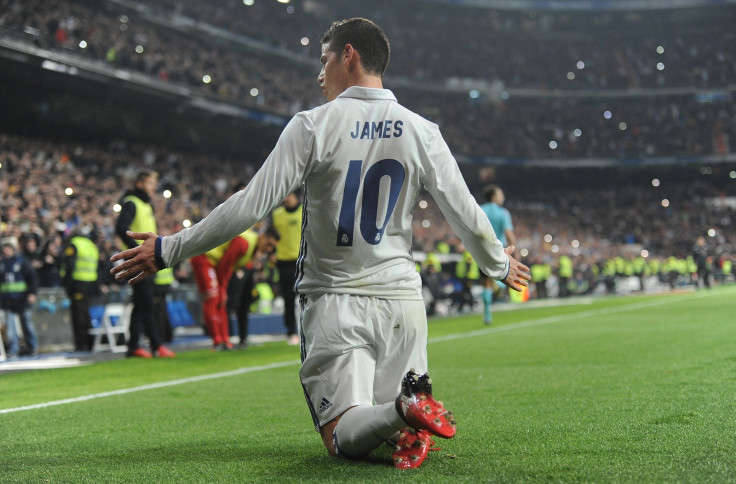 James Rodriguez has returned to the Real Madrid training sessions a day after his side overtook Barcelona at the top of La Liga table with a 4-1 victory over Celta Vigo. The Colombian international missed the trip to Galicia amid speculation linking him with Manchester United but could be ready to return to action for the final league game against Malaga on Sunday (21 May).
The 25-year-old playmaker has been tipped to leave the Santiago Bernabeu in the coming summer transfer window after having failed to convince Zinedine Zidane to deserve a regular plans in his line-up.
The former Monaco star added fuel to that possibility on weekend after appearing to wave goodbye to the Real Madrid crowd on weekend when he was substituted in the second half of a 4-1 victory over Sevilla – the final match of the season at the Santiago Bernabeu.
Chelsea and Manchester United had been linked with his services in recent months and earlier in the week Colombian radio station Caracol reported that his move to Old Trafford was now only a formality – and that could be even announced after Real Madrid's final league match of the campaign against Malaga.
Other sources quickly hit back at those claims but the alarms were bells were ringing in Spain on Tuesday morning after James failed to take part in the Real Madrid's training session ahead of the trip to Celta.
Zidane later added some clarity to the situation in the press conference after revealing that his absence had nothing to do with his future but with an injury.
The Colombian consequently missed the midweek rescheduled clash at Celta that saw Real Madrid securing three crucial points to move within a point of the La Liga trophy – being currently three points ahead of Barcelona with only one game remaining.
However, it looks that James' injury was only minor as the former Monaco star was back in training on Thursday to begin the preparation for the decisive trip to Malaga.
"The starting 11 against Celta completed a recovery session and ran out on the pitch before training using the indoor facilities. The rest of the group, now joined by James and the Castilla player Enzo, carried out a session where ball work was the main focus," Real Madrid confirmed.
Now it remain to be seen whether James participation at Malaga will be his last for Real Madrid in La Liga – as he is still expected to complete a move to United or somewhere else in the summer.
Zidane is thus expected to have most of his players available to face Malaga as Los Blancos will be in search for a point to beat Barcelona for their first La Liga title since 2012.
However, Gareth Bale and Dani Carvajal will probably miss the game as the duo are still working in their recoveries in a bid to be fit in time for the Champions League final against Juventus on 3 June.