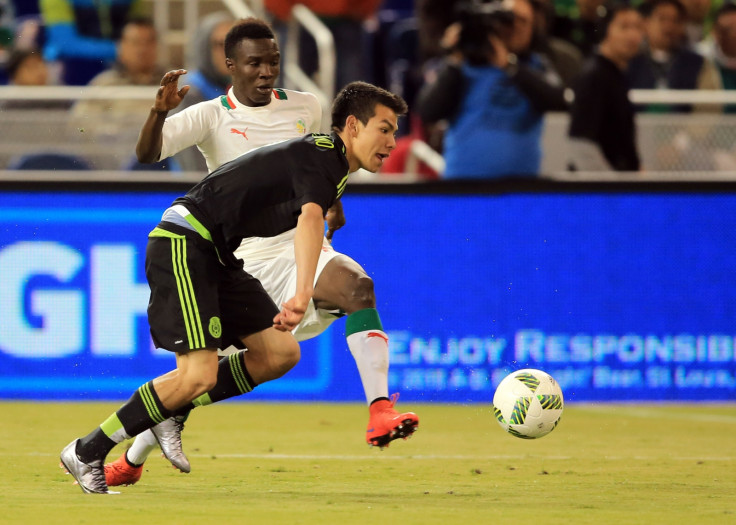 Manchester United are closing in on securing their latest signing since the arrival of Jose Mourinho after starting negotiations with Pachuca and Mexico winger Hirving Lozano. Vice president Andres Fassi says his club are in talks with the Premier League giants but an agreement is yet to be reached.
ESPN previously understood that the Old Trafford club had rigorously scouted the 20-year-old, who played for the Mexican national team during their Copa America campaign. He netted 12 goals and made 10 assists in all competitions last term and could follow Javier Hernandez is becoming the second player to hail from Mexico to move to the Theatre of Dreams.
Fassi claimed in June that 12 sides were interested in signing Lozano this summer, but that group appears to have been whittled down to one with United seemingly heading the group of clubs in contention. The Pachuca chief says Mourinho's side are in talks to sign the wideman but that a deal is yet to be concluded.
"Already there is negotiations with that team [United]? Yes," Fassi told ESPN, according to the Manchester Evening News. "There is still nothing closed though." The comments represents the second time Fassi has suggested his star player could be on the way out this summer and it appears inevitable Lozano will be departing sooner rather than later.
"There is a situation of confidentiality for 30 days with 12 teams," Fassi told Record MX. "They are evaluating, looking at options, making plans, but I cannot say anything else. Three of the 12 teams are better placed, that is all we can say - due to the confidentiality clauses in place."
"Pachuca, for several years, has a structure of great relationship with many teams in England, Portugal, Spain, France, Italy and Germany. Some agreements allow the players to go to Europe in the future."
United have already confirmed two summer signings in the form of Eric Bailly from Villarreal and Zlatan Ibrahimovic on a free transfer from Paris Saint Germain. Henrikh Mkhitaryan will become the third addition after Borussia Dortmund confirmed his departure and the Armenian international's name inadvertently appeared on the club's website.