Dani Alves is reportedly going to request Barcelona give him a three-year-contract extension, while maintaining his lucrative salary, to stay at the Camp Nou, amid interest from Manchester United and Liverpool in securing his services as a free agent this summer.
Having only three months remaining on his contract with the Catalans, the Brazil international has been free to negotiate a summer departure to another club since January.
His agent, Dinorah Santana, recently claimed that as Barcelona had not approached them regarding a new deal, they understood the Catalans were likely to part ways with him.
She then confirmed they were meeting with a number of teams before later revealing the defender was "close to signing with another club".
Alves, who earlier in the season claimed he would like to move to the Premier League once his contract at Barcelona expires, has been heavily linked with a move to Manchester United and Liverpool, while other reports claimed the unnamed club close to securing his signature was Paris Saint-Germain.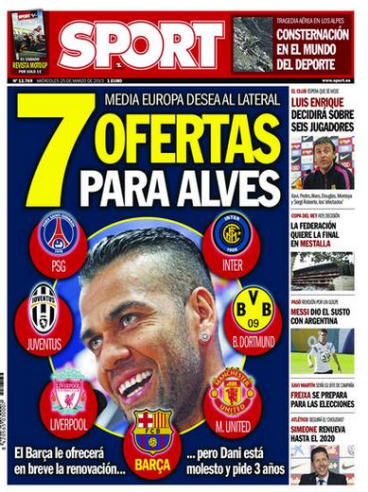 But the future of the Brazilian is reportedly ready to suffer a twist as Barcelona look to have changed their minds and want the defender to commit his future to the Camp Nou, as manager Luis Enrique still sees him as a crucial member of his squad.
Catalan-based newspaper Sport claimed Barcelona were going to take advantage of the international break to begin negotiations by offering him a two-year deal.
But now both Sport and AS claim Alves is going to request a three-year deal, one that allows him to keep his current salary.
Even though Barcelona were expected to offer him a cut-price fee due to his age, Alves can take advantage of the number of clubs that have approach him in order to get the best possible deal.
The Spanish reports claim Alves's first intention is to stay at the Catalan side but Sport points out United, Liverpool, PSG, Borussia Dortmund, Juventus and Inter Milan have approached him regarding a move. Considering he would join as a free agent, they will likely be happy to meet his salary demands.