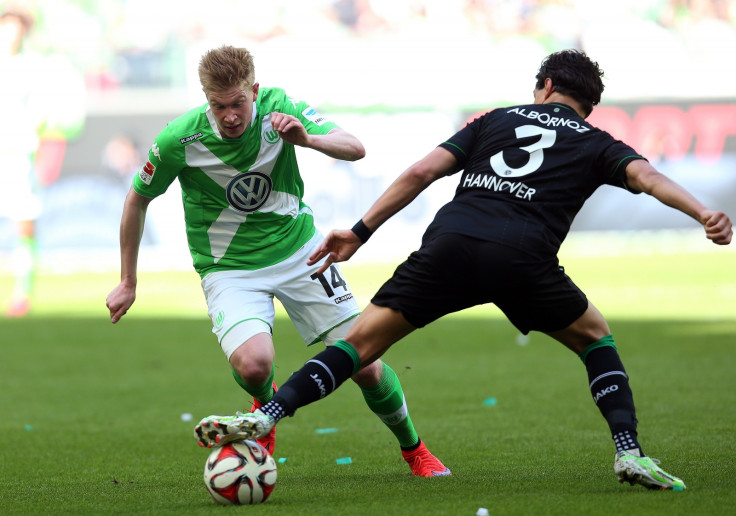 Wolfsburg midfielder Kevin de Bruyne admits an offer from one of Europe's elite could tempt him to leave the Bundesliga side this summer.
Manchester United and Manchester City have both been heavily linked with the former Chelsea starlet since the turn of 2015, while Paris Saint-Germain have already held talks with his agent.
United's interest in the Belgium international was made known in January by Wolfsburg coach Dieter Hecking and while sporting director Klaus Allofs insisted in March the player was happy at the club, he admitted they will have to "face up" to significant offers that may come their way at the end of the season.
While he insists he is content to remain where he is, De Bruyne has now opened the door to a possible summer exit from the Volkswagen Arena.
"You never know what will happen in football," he told Kicker, ESPN report. "A club might step in and make an offer that pleases Wolfsburg and also makes me happy. Right now, I say that I will stay at Wolfsburg. I don't like it when players say they will stay no matter what and are gone after the first offer."
While Paris Saint-German face limitations in what they can do in the transfer market due to Financial Fair Play regulations, the Ligue 1 champions would appear to have made their own attempts to entice De Bruyne.
Speaking to French television station TF1 in April, De Bruyne's agent Patrick de Koster said: "We had a meeting, we talked about Kevin. They [PSG] have the lustre, they have the possibilities. They are a club with ambitions and have directors who are healthy in terms of their man-management. So, they are certainly a club that is among those Kevin would like."
But De Koster has warned that De Bruyne's rise in the Bundesliga this season means he could command a fee as high as €60m (£44m, $67m).