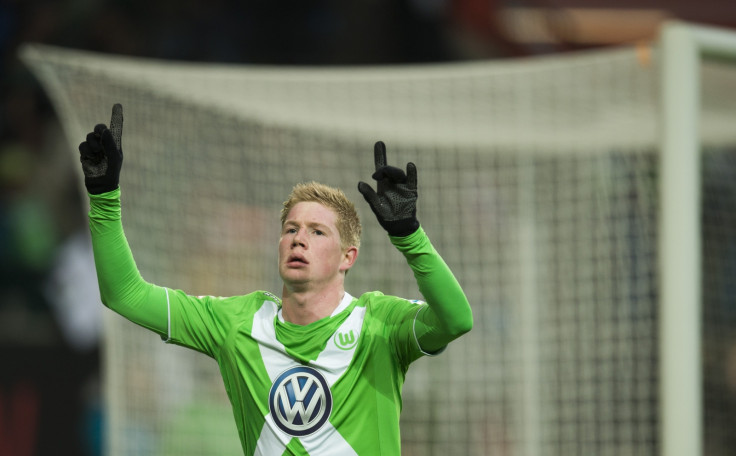 Wolfsburg manager Dieter Hecking has urged midfielder Kevin De Bruyne to snub a chance to join Manchester United and continue in the Bundesliga until 2016.
The 23-year-old has featured in the Premier League for Chelsea, before leaving the Blues for the German outfit in January 2014. After joining Wolfsburg, De Bruyne has been in fine form for his current employers and extended his form for this season.
So far, the Belgium international has scored eight goals and registered 15 assists in 24 league appearances. His impressive display has seen him being linked with a move to United in January as Louis van Gaal was keen on signing him in the mid-season transfer window.
However, Hecking claims De Bruyne is happy at Volkswagen Arena and will be at Wolfsburg next season.
"I think he would benefit from another year in the Bundesliga. That's what I would want," Hecking explained, as quoted by the Express.
"Kevin feels good, he's enjoying a good season and it is clear that he is in very, very good hands with us. I don't see him going anywhere in the summer."
The midfielder's contract with the Bundesliga outfit runs down in 2019. Wolfsburg are aware that the player's brilliant run has been attracting interest from top clubs. Earlier in February, Hecking admitted that his side could "risk" losing De Bruyne to another club in the summer.
"When you have a player like Kevin, there is always a bit of a risk that another team will come in and sign him," the Wolfsburg manager stressed.
"A big-money move would also be a sign of appreciation of what we are doing. I do not have any fear that De Bruyne will leave the club. There are only eight teams in Europe that are a step up from Wolfsburg."
Meanwhile, De Bruyne has opened the door for a summer move away from Wolfsburg, after admitting that he dreams of playing for a European giant in the future.
"I feel very much at home with VfL Wolfsburg in this very moment. Life in football can be fast-moving. VfL Wolfsburg is not yet like Bayern Munich, of course, and my biggest ambition is to play for a big European club – one I can win trophies with," De Bruyne told Sport Bild in February, when asked about his future.