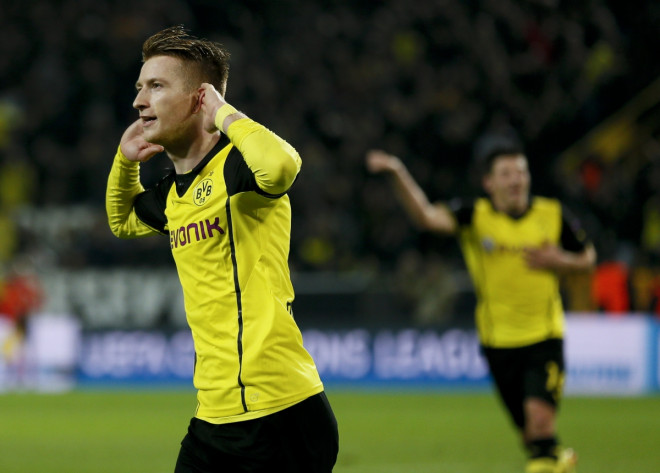 If last year Borussia Dortmund striker Robert Lewandowski was Real Madrid's nightmare, this year his teammate Marco Reus has taken up the mantle – and shown why Manchester United are desperate to sign him.
After the 3-0 first-leg, Los Blancos traveled to Dortmund with the feeling that they faced a mere formality, but they have had to sweat on their progress – and it was all thanks to the man they call 'Rolls Reus' in the Rhineland.
Two first-half goals by Reus, both coming from Real mistakes, gave Dortmund a deserved lead as Carlo Ancelotti's side, who had a penalty saved in the 17th minute, were left mesmerised by the German club's frantic pace.
Reus carried the team on his back and showed on the Signal Iduna Park's perfect surface why he is one of the most desired players in the market. The 24-year-old guided his side to a performance which left Real dazed and confused.
Reus's double was not quite enough to overturn the 3-0 first-leg defeat by Real, but the winger was full of praise for his side's courageous attacking display.
In his post-match interview, Reus said: "We didn't play well in the first leg and that's why we were chasing the tie. We did everything we could right from the start and played with real courage going forward. Unfortunately we just lacked that little bit of luck, but we came mighty close to surprising everyone.
"We could easily have scored the goals to take us through, both tonight and last week. That makes it all the more difficult to swallow that we're out. After reaching the final last season we definitely wanted to get further than the quarters."
Los Blancos reportedly set their sights on capturing Lewandowski before he decided to join Bayern Munich, and now they could be ready to compete with United for Reus.
The signing would be far more affordable than last year's €101m purchase of Gareth Bale, as German media claims Reus would 'only' cost €40m.
If Real wish to act, they will have to do so quickly, as United are reportedly considering a player-plus-cash deal which would see former Dortmund player Shinji Kagawa, a favourite of the German club's coach Jurgen Klopp, move back to Signal Iduna Park in the summer.
However, it seems Dortmund will fight to retain their player, even more than they did over Lewandowski, whose future became the subjected of a protracted and at times heated saga before he decided to join Bayern.
Reus has been in impressive form for Dortmund this season, scoring 13 goals and managing 10 assists in 25 league appearances – plus five goals in the Champions League. It is hard to replace that kind of quality, and Klopp will be keenly aware of that.