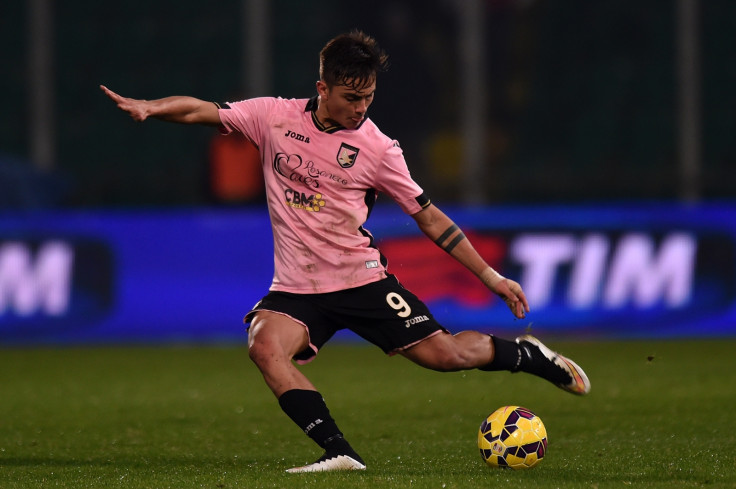 Paulo Dybala is another step closer to leaving Palermo with the Serie A side keen to sign Rayo Vallecano's Alberto Bueno as his replacement.
Dybala, 21, is poised to leave Italy at the end of the season having failed to agree to a new contract at the Stadio Renzo Barbera. Manchester United are one of a host of clubs linked with the Argentine, after Palermo president Maurizio Zamparini revealed an approach from Louis van Gaal's side in January.
The forward has been valued at €40m (£28m, $42m) by his club with Zamparini doing his very best to drive up his price, comparing the player's talent to that of Lionel Messi.
The Palermo president is confident Dybala's sale will help the club balance their books and is striving to ensure the club can replace their outgoing starlet with Bueno, who will be available on a free transfer at the end of the season.
"Could Bueno replace Paulo Dybala? He has been proposed to us and his contract is due to expire," Zamparini told Il Giornale di Sicilia. "We have been offered other strikers too, so we will see.
"By the end of April we will build the new squad and are already working on it with coach Beppe Iachini. Our strategy is always the same; find talented young players and get them before the other clubs do."
Zamparini has not been shy of discussing the future of Palermo's most prized asset. The outspoken president recently declared the Premier League or Paris Saint-Germain would be Dybala's most likely destinations at the end of the season, having suggested no other club in Italy would be able to afford him.
But Dybala has indicated he would prefer a move to Barcelona, recently admitting he would "swim" to the Nou Camp if an offer came his way.