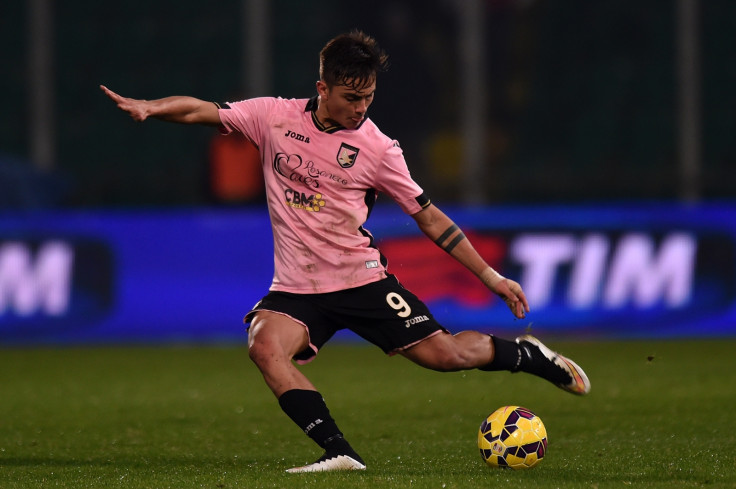 Palermo president Maurizio Zamparini has confirmed Manchester United target Paulo Dybala will be sold this summer.
The Serie A side had been hopeful of tying the Argentine forward down to a new contract but after a breakdown in the relationship between the player and Zamparini, they are ready to cash in at the end of the season.
In hope of driving up a fee for the 21-year-old, Zamparini has been more than willing to immerse himself in speculation over where Dybala will be playing next season.
After claiming United enquired into the player's availability in January, the outspoken club president has also claimed Paris Saint-Germain, Chelsea and Juventus have also been in contact over a move he expects will earn the club €40m (£31m, $45m).
Speaking on 24 February, Zamparini has again confirmed the club's top scorer this season is on his way out with Paris or the Premier League his most likely destination.
Tuttosport quote the Palermo president as saying: "Next year is going to be good for Palermo to be self-sufficient without the need for selling players, like this year when Dybala leaves.
"We are going to make a great profit on him, but in view of our accounts, I hope it is the last time [we have to sell a key player]. Big clubs have already called me, both from England and also PSG in France. The lad is very good and we are going to meet and find an agreement with his family and also his agent."
Dybala, who has scored 12 league goals this season, was initially linked with Arsenal in the summer of 2014, admitting it would be "great" to join the Gunners at the time.
Zamparini openly discussed United's interest and an approach from Old Trafford in January, while Chelsea were soon credited with interest shortly after.
The Argentine admitted it would be a "dream" to play for Manchester City in February, completing a quartet of Premier League sides who hold a better chance of signing the player than anyone in Italy, according to Zamparini.
"I would be happy if Napoli bought him, but I don't think he is within their reach, he said earlier this month. "Dybala is out of reach of all Italian companies."