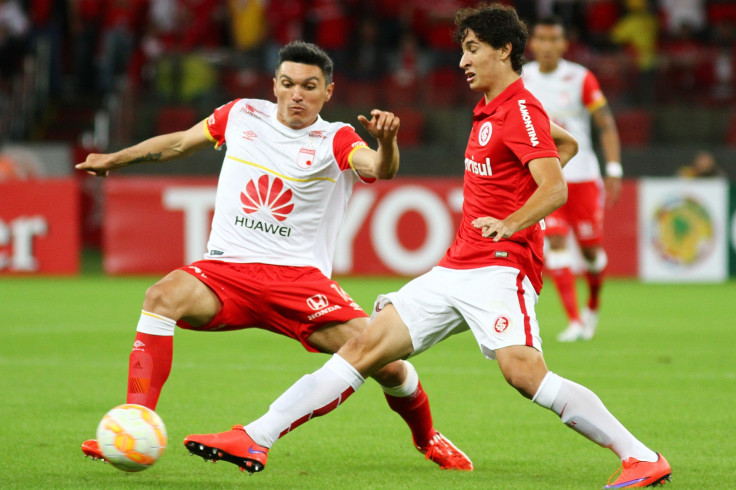 Internacional say a bid of £20.6m would be more than enough for Manchester United to sign midfielder Rodrigo Dourado.
On Friday 12 June, the Daily Mail reported United had moved to the brink of finalising a deal for the 20-year-old midfielder having identified him as Michael Carrick's long-term successor.
It was suggested United manager Louis van Gaal had sanctioned a bid after the club's scouts returned with impressive reports of the midfielder but speaking to Brazilian newspaper Correio do Povo, an Internacional press officer rubbished claims made by the British press, joking United could get more than just Dourado with the £20.6m offered.
"R$100m? (£20.6m, $32m)? For that price, they can have Dourado, [manager] Diego Aguirre, [club president Vitorio[ Piffero and me," the official said.
Such comments would appear to suggest Dourado will be available at a much lower price than the reported £20m although it would seem Internacional have no knowledge of any bid from Old Trafford.
United have also been heavily linked with another Brazilian in recent days in Roberto Firmino. On the same day in which claims of a deal for Dourado emerged, it was also reported United had struck a deal to sign the Hoffenheim midfielder.
Sky Deutschland would later claim the Bundesliga side will allow their prized asset to leave for a fee of £21.6m, while Firmino's agent appeared to confirm on Monday 15 June that his client has already agreed to join a Premier League side. "All I can say is that he will go to England," he was quoted as saying by Bild.
Manchester City and Liverpool have also been credited with interest in the 23-year-old. Firmino is currently with the Brazil squad as part of their Copa America campaign, which began with a 2-1 win over Peru on Sunday 14 June.