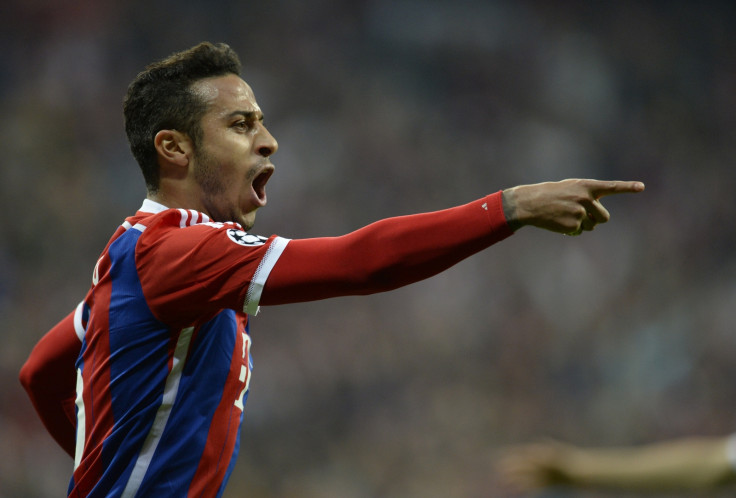 Bayern Munich midfielder Thiago Alcantara has revealed that he had never received a firm proposal from Manchester United when he transferred from Barcelona in 2013. The Red Devils were heavily linked with a move for the player but Pep Guardiola's appointment at the Allianz Arena meant that there was always going to be one destination.
Bayern are currently top of the Bundesliga and have progressed into the round of 16 of the Champions League where they will face Italian Champions Juventus in a two legged tie. The midfielder has been central to their exploits, including pulling off a calculated performance against Arsenal over two legs in the group stages in Europe. The Bavarians shrugged off a 2-0 loss to the Gunners at the Emirates to emerge victorious at the Allianz, mutilating the north London club 5-1 to secure top spot in the group.
David Moyes, who was in charge of the Red Devils when Alcantara was linked, brought in Marouane Fellaini in the summer to bolster the United midfield. His transfer business did not generate the results he had hoped, leading to him being sacked before the end of the season after it was confirmed that the 20-time champions will not make the top four. David de Gea tried to encourage the former Barcelona man to move to Old Trafford but in the absence of a concrete offer, the interest was unfounded.
"There was never any firm proposal," Thiago told the Daily Mail. "David de Gea wanted me to join. He wrote a message on my match ball after we'd beaten Italy in the final. But I'd have done the same with him. He is one of the greatest goalkeepers in the world. You always want to play with the best. But it was always going to be Munich."
The Spaniard does not have any plans to move to the Premier League in the near future but acknowledges the quality of the tournament, heralding it as the best league in the world.
"All I will say is that it is an amazing league," he continues. "It is probably the best league in the world but I'm very happy at Bayern and fulfilled with what I am doing."