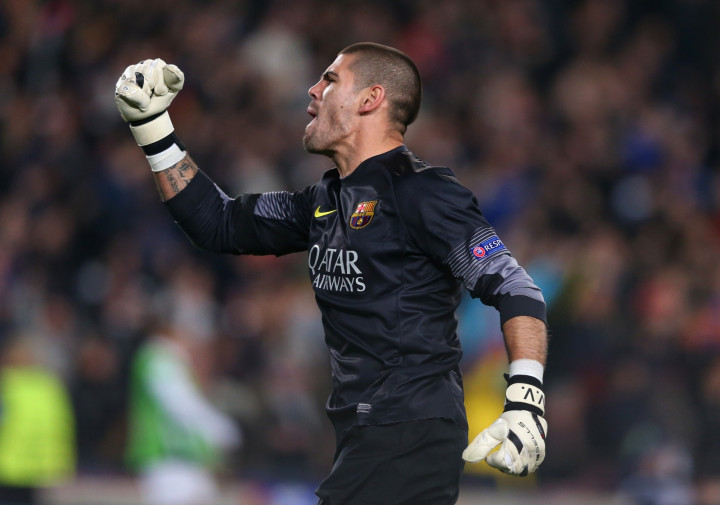 Former Barcelona goalkeeper Victor Valdes has been offered the chance to join Manchester United to complete his rehabilitation from a knee injury after tearing his anterior cruciate ligament in March, the Premier League club have confirmed.
The 32-year-old Spanish international is currently a free agent after ending his contract at the Camp Nou last June.
The Spaniard agreed personal terms to move to Monaco earlier in the summer but the Ligue 1 side backed out after the keeper failed the medical.
Liverpool have since been heavily linked with his services in recent months but manager Brendan Rodgers himself recently ruled out the signing, claiming he didn't expect any Spaniard to join the club in the coming months.
Now Manchester United manager Louis van Gaal has offered Valdes the chance to complete his rehabilitation at Old Trafford, having been the manager who handed him his debut at Barcelona.
"Manchester United manager Louis van Gaal has offered the 32-year-old former Barcelona goalkeeper Victor Valdes a chance to complete his rehabilitation from a knee injury and to work his way back to fitness with the club," the club confirmed in its official website.
"Valdes, a free agent, will have his recovery supervised by the United medical staff before training with the first team, as he bids to regain full fitness."
During his 12 seasons at Barcelona Valdes won six La Liga titles, three Champions League crowns, two Copa del Reys, two European Super Cups and the Club World Cup twice.
Recently Valdes praised the United manager, claiming he was the catalyst for the La Liga giants' golden era.
"Thank you to Louis van Gaal, for showing the courage necessary to gamble on a talent that only he could see. He began building this historic Barça side, which I have been privileged to be part of. My heartfelt thanks," Valdes said.