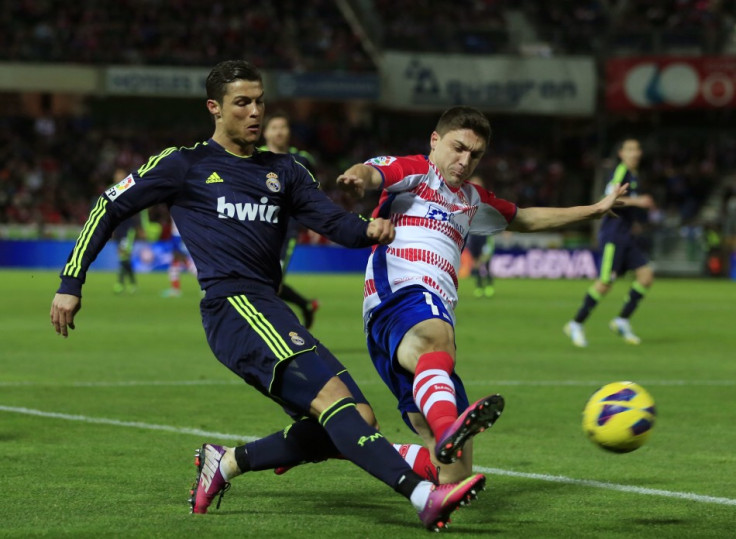 Manchester United are considering an approach for Brazilian left-back Guilherme Siqueira, who plays for Spanish club Granada. The Metro believes the Premier League champions have identified the 27-year-old as a potential back-up if they fail to sign first choice target Leighton Baines of Everton.
The Toffees' star defender was linked with a move to Old Trafford last summer, when Sir Alex Ferguson was still in charge of the club. However, despite considerable speculation, nothing concrete emerged and the England international remained at Goodison Park.
Everton chairman Bill Kenwright sent out a strong signal in June, when he rejected a £12m offer from United, who may have been counting on the presence of David Moyes at the helm. Former Wigan Athletic manager Roberto Martinez, who replaces Moyes as Everton coach following the latter's move to United, has also confirmed the club's unwillingness to release Baines.
Moyes has veteran French international Patrice Evra as first choice for now, with Dutchman Alexander Buttner also available. However, Evra is 32 years old and Buttner has flopped since a shock switch from the Eredivisie last year.
Siqueira represents a reasonable option. The South American has an Italian passport, which eliminates work permit problems and is expected to be available for £6m. He has considerable experience with the Spanish and Italian leagues, having also played for Udinese in the Serie A. And, at 27, Siqueira represents a signing who can provide value for at least five or six years.
The best part about this potential signing is the player is aware of the interest and ready to move on to a bigger club. The concern, though, is he still has four years on his contract with the La Liga club, meaning they could force a drawn-out negotiation.
"I can't say that my cycle at Granada is over as I still have four more years on my contract. But the board and the fans know that I have had two top quality seasons and I think that, if I am to leave, the moment is now," the defender told Globo Esporte.
Siqueira also spoke to Spanish newspaper Marca, admitting a desire to play in the Champions League. However, he stressed that any deal would have to fulfil several conditions.
"To leave [it] has to be that the offer is irresistible from the economic standpoint and sporty, the operation is good for the club and also the team he will be a Champions League level. If there are no such circumstances, I do not mind at all to stay in Granada, where I am very happy," he explained.
Marca's report also links Liverpool, Everton and Turkish champions Galatasaray with the player.