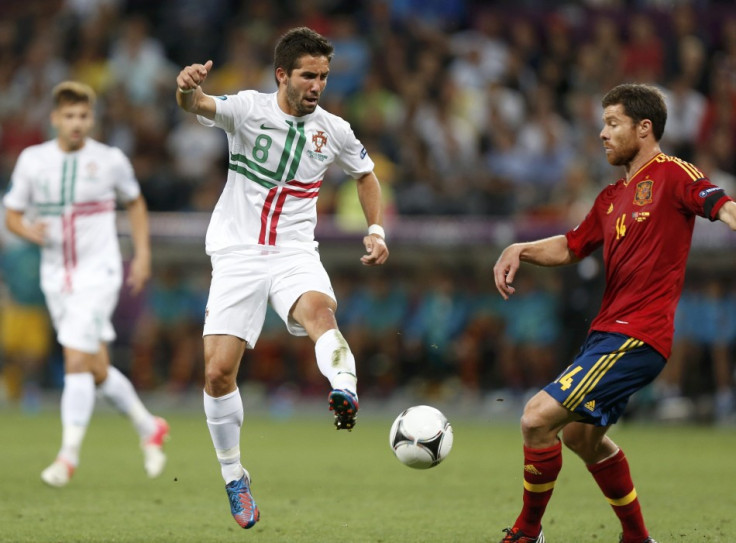 Manchester United are reportedly closing on FC Porto's Portuguese midfielder Joao Moutinho, who had an excellent 2012 European Championships for his country.
The Sun reports the Red Devils have approached the former European champions after a potential move for Tottenham's Croatian midfielder, Luka Modric, their number one target, hit a dead end. Speculation surrounding Modric's future has dogged the Spurs player all summer long and there was word a move to Old Trafford had been agreed, only for other reports to state Real Madrid had also taken a hand.
Much of the talk over Modric has been around his transfer value, which Spurs are believed to have set high enough to discourage bids. In any case, Sir Alex Ferguson must feel Mourinho represents a slightly cheaper alternative. ESPN reports the player could be available for £25mn. If an agreement between the two clubs is reached, the former Sporting Lisbon player will follow the likes of Cristiano Ronaldo and Nani, in moving from Portugal to Old Trafford.
Spurs Also in Race
United's interest aside, Moutinho has also been linked with a move to Tottenham, where former boss Andre Villas-Boas seems all set to step in as Harry Redknapp's successor. The connection could prove tempting for the player and he has hinted at a reunion, meaning Spurs may be able to trump their rivals in this race.
"AVB is one of the best coaches I've worked with. I'd work with him again tomorrow. I don't really know what happened at Chelsea - but when you employ a new coach you have to give him time. You can't always base his progress on results. Perhaps in the end he was judged more on immediate results than he was on his long-term vision," the Daily Mail quoted Moutinho as saying.
"All I do know is he did a fantastic job at Porto. He didn't win the league title and the Europa League by chance. But then he had a set of players who bought into his ideas and were enthusiastic and supportive. He was very much like Pep Guardiola was at Barcelona. He loved to deploy systems to bring the best out of the players," the Porto star pointed out.
Gala Want Berba
Meanwhile, Turkish giants Galatasaray have expressed an interest in signing out-of-favour United striker Dimitar Berbatov. Club president Unal Aysal stated his side remained interested in signing the former Bayer Leverkusen and Tottenham striker but also insisted a decision to push ahead with the move rested with manager Fatih Terim.
"The Bulgarian is a great forward. I want him to join us but, of course, coach Fatih Terim has the final word," Sky Sports quoted Aysal as saying. Berbatov has already announced he will be leaving United this summer.