Manchester United Transfer News: Two Key Positions Missing, According to Legend
Wesley Sneijder could fill a hole in Manchester United's line up, according to Dutch legend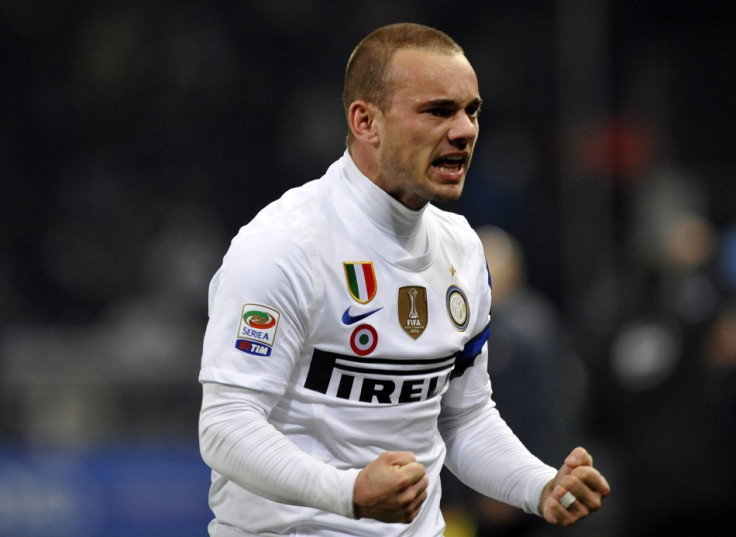 Netherlands legend Ruud Gullit has called on Manchester United to sign Wesley Sneijder in the January transfer window, with the playmaker said to still be a potential target for Sir Alex Ferguson.
Gullit featured for numerous clubs between 1979 and 1998, and scored 17 goals in 66 appearances for the Dutch national side.
And after Manchester United drew 2-2 with Benfica in the Champions League group stages this week, the 49 year old had some home truths for Sir Alex Ferguson.
"Benfica played well, daring and aggressive," said Gullit. "You see Manchester United struggle and are very dependent on Wayne Rooney.
"They lack a creative midfielder like Sneijder and he's someone who can take them to another level.
"Furthermore, United miss Edwin van der Sar. They miss him organising things in front of him. Ferguson recognises this."
United lost van der Sar when he retired at the end of last season, and while they signed David de Gea as a replacement, the Spaniard is still finding his feet in the Premier League.
And though Ferguson insisted at the start of the season that he didn't need to find a replacement for the retired Paul Scholes, United have struggled to maintain their successful start to the campaign, losing to cross town rivals Manchester City 6-1 and to Crystal Palace in the Carling Cup quarter final.
Ferguson apologised during the week for United's disappointing performance against their Championship opposition, and though he has insisted that the club won't sign any new players in January, if the Red Devils hope to challenge City for top spot in the table, they may have to compromise and make some purchases.
United have been linked to numerous defenders in preparation for the next window, with Christian Eriksen, Andreas Pereira and Sami Khedira all linked with the English giants in recent months.
And Ferguson is famous for being quiet on transfer targets and refusing to give anything away, so if he does have a midfielder in mind to fill the hole Scholes left at Old Trafford, the Scot will no doubt be particularly stealth over his moves.
United are also reportedly looking at alternatives to Sneijder because his transfer fee of £40 million and wage demands are deemed too high by the club.
© Copyright IBTimes 2023. All rights reserved.