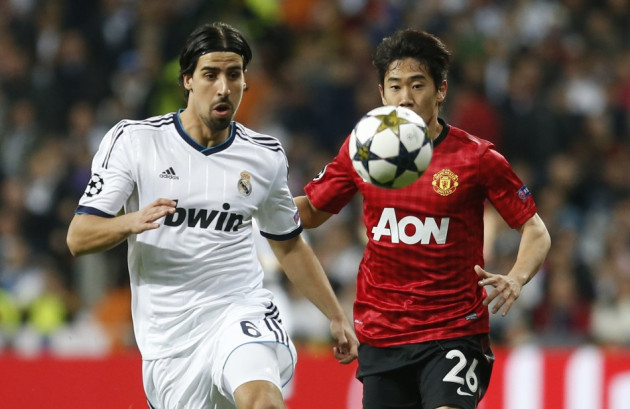 Manchester United are considering a January move in signing Real Madrid midfielder Sami Khedira, according to the Mirror.
The German international has long been a transfer target for David Moyes, and the Premier League champions made a £34m approach for the 26-year-old in the summer, only to be turned down by the nine-time European champions.
Khedira has already revealed that he feels insulted by the Spanish press for being loyal to Madrid's former manager Jose Mourinho. The Portuguese boss was replaced by Carlo Ancelotti and the midfielder stated the club lacked team spirit.
"I feel insulted by the Spanish press, I will never be one of their favourite sons. I began the season on the bench and once again I've been made a scapegoat. They don't value me, even when I play well. I'm not Spanish, I didn't cost a lot and I'm a disciple of Mourinho," Khedira told Kicker.
The Spanish newspaper El Economista had earlier suggested that Madrid will be willing to offload Khedira in January.
The Mirror reports that David Moyes has sent Phil Neville to Spain to watch Khedira in action during Madrid's 7-3 win over Sevilla at Santiago Bernabeu. United are preparing a £35m bid to bring the midfield to Old Trafford in the winter transfer window.
The Premier League champions had a shambolic summer transfer after Moyes managed to add only Marouane Fellaini to the squad on the final day of the window. The Belgium international requires a wrist operation and the Mirror believes that would keep the former Everton star on the sidelines for two months.
Fellaini has failed to impress at Old Trafford and United would be looking to strengthen the midfield in January. Should the Scot sign Khedira, the addition of German midfielder to the Red Devils' squad would bolster their midfield.
Any move from Moyes for Khedira would not be an easy task. United are likely to face competition from their league rivals for Madrid midfielder's signature. Arsene Wenegr is keen on bringing Khedira to Arsenal while Mourinho and Chelsea are also believed to be interested in signing the former Stuttgart man.