Manchester United target Robert Lewandowski is set for a summer exit from Borussia Dortmund, after club team mate Mats Hummels admitted the Polish international will leave Signal Iduna Park. The 24-year-old has been linked with moves to both the Premier League champions and Champions League winners Bayern Munich.
"We know Lewandowski wants to leave, we know you [he] want to go away and we're sorry for that. Yet thinking to what happened three years ago when he arrived from almost unknown and seeing what has become we are happy and proud of him. We can only hope that the new arrivals in Dortmund Lewandowski," the German international was quoted by Tutto Mercato Web.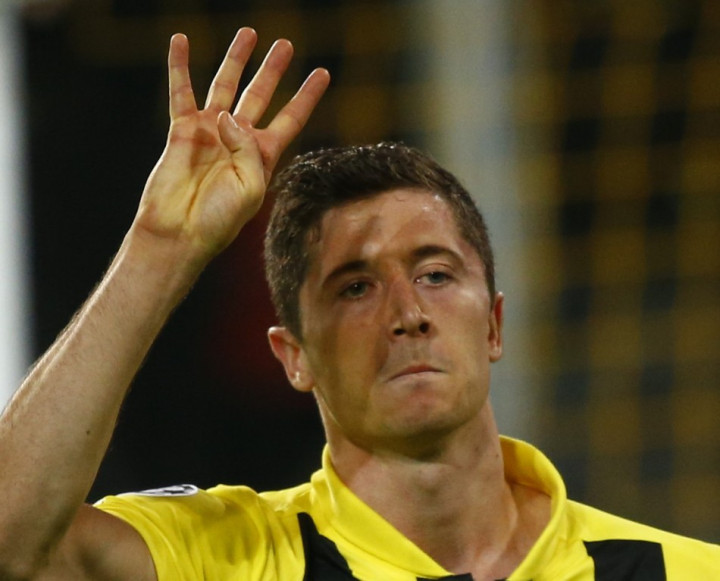 However, Dortmund manager Jurgen Klopp isn't quite so convinced. The 45-year-old Stuttgart native, who has led the club to two Bundesliga titles and a Champions League final in the last three seasons, believes Lewandowski will remain at the club.
I don't get the feeling Robert is on the run," Klopp told ZDF television, according to the Independent, adding, "We'll just have to see what happens."
The Pole is contracted till the end of the 2013/14 season and has so far neither signed an extension nor verbally committed himself. Indeed, he has refused to comment on his future until after the Champions League final.
Can Dortmund risk losing their star striker for free next summer? Unlikely. The club have a modest budget and cannot afford to pass up the transfer fee; a report by the Express rates him at £25m.
The club have already lost playmaker Mario Götze to Bayern Munich and the Bundesliga champions earlier denied an agreement to sign Lewandowski in the summer.
Lewandowski has had an impressive season for Dortmund, scoring 35 goals and managing 10 assists in 47 appearances in all competitions.
Arjen Robben Relieved
Meanwhile, Bayern Munich winger Arjen Robben is over the moon after scoring the winning goal on Saturday. The former Chelsea and Real Madrid star was in last season's final as well, when he failed to convert a penalty against the Blues.
"I didn't even know what time it was when I scored the goal," the Dutch international admitted, "It went in and then I looked up and I saw it said 89 minutes and I thought 'wow, it can be the end'. It was a great feeling I can tell you."