Borussia Dortmund striker Robert Lewandowski has said he rejected offers from Premier League champions Manchester United and Real Madrid for his services. The Pole's performance last season saw him linked with a move to top clubs in Europe, while he had his heart set on Bayern Munich.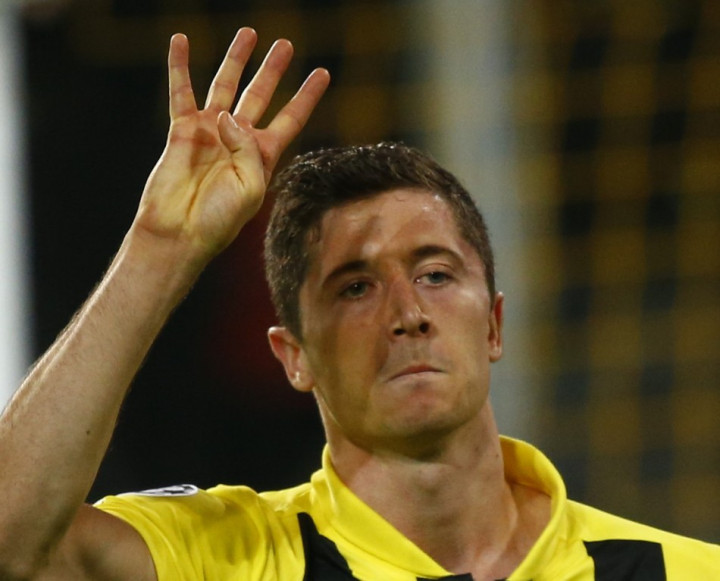 After Lewandowski's move to the Champions League winners was blocked by Dortmund, his disappointment at not being allowed to leave Signal Iduna Park was eased by a pay rise.
The 25-year-old played a crucial role last year, which included a four-goal hammering of Real Madrid in the semi-finals of the Champions League. Lewandowski admitted to have exchanged text messages with Jose Mourinho, while the Portuguese manager was with the Spanish capital club.
"Yes, there was a situation like this with Jose Mourinho but I wouldn't like to talk about it much. It was a private conversation so I don't want to make big things out of it. I can confirm I spoke to him. We spoke a few times before," Lewandowski told the Sun.
"I have his number in my phone. It is a huge compliment for me that a manager with such a big name is texting me this way. It is always nice to talk to him but it is not the first time I had such a situation," he added.
The English champions were interested in Lewandowski last summer, but Sir Alex Ferguson signed Robin van Persie from Arsenal. The Polish international said he held talks with the Scot and was quick to shrug off suggestions that Ferguson's retirement affected his decision.
"One year earlier I also spoke to Sir Alex Ferguson and that was definitely a great feeling. The retirement of Sir Alex didn't affect my decision not to come to England. He spoke to me one year ago. It was not at a good time. I knew I still had something big to achieve in Dortmund before I joined a bigger club," the Pole said.