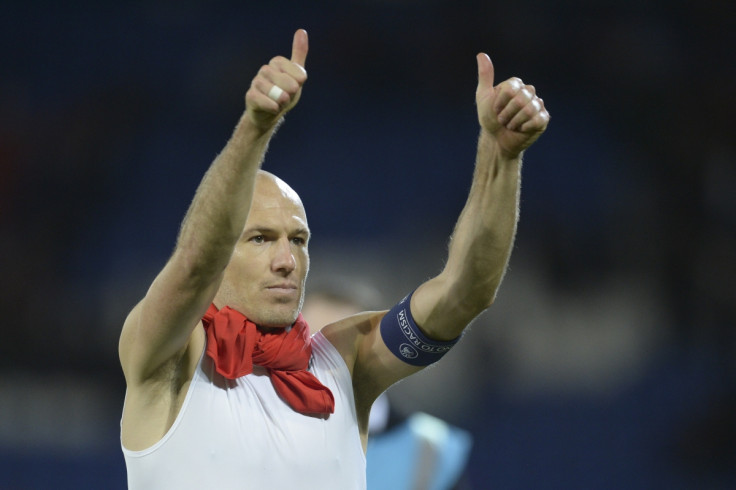 Bayern Munich winger Arjen Robben has no plans to join Manchester United in the January transfer window, despite having just 18 months remaining on his deal at the Allianz Arena. The 31-year-old has been linked to a reunion with his former Netherlands coach Louis van Gaal but the player is more than happy at the Bundesliga champions.
Robben has suffered from constant injury problems this season, making just seven league appearances for the Bavarian giants. With Bayern manager Pep Guardiola out of contract at the end of the season and yet to commit himself to the club, the rumours regarding Robben's long-term future are another unwelcome distraction.
Spanish publication Don Balon reported that United were prepared to pay £50m ($75.8m) for Robben in the winter transfer window in order to help add attacking impetus to the team. However, the 2010 World Cup finalist is not considering a move to Old Trafford.
"I never thought about a transfer," Robben said, according to Sky Sports. "I am happy in Munich – my family is happy in Munich. My contract runs until 2017. You can't look too far forward in football, but everything is fine at the moment. I hope things continue this way."
The reports regarding Robben come amid a troubling period in the season for United, who have scored just 20 goals in 14 league games and are also on the brink of elimination from the group stage of the Champions League. The negative tactics employed by Van Gaal have come in for criticism from a variety of directions and former defender Paul Parker says the likes of summer signing Anthony Martial and Mempis Depay will be unsettled.
"When Louis van Gaal arrived at United, I thought he too would be flexible," he told Eurosport. "But we now have a situation where there are a lot of discontented players and we have to question why they are playing badly. I look at Anthony Martial and worry for him. He looks like a boy who doesn't smile anymore. He doesn't look like he's enjoying himself.
"The form Memphis Depay is showing hasn't just happened because he's playing in the Premier League. That boy probably feels like a scapegoat. He's in a country relatively close to where he's from, but feeling a million miles away. Ander Herrera is hugely popular with the fans because he makes things happen. Everyone loves to see players like that, but he's barely playing and is probably unsettled. These players need freedom; they need to enjoy themselves."