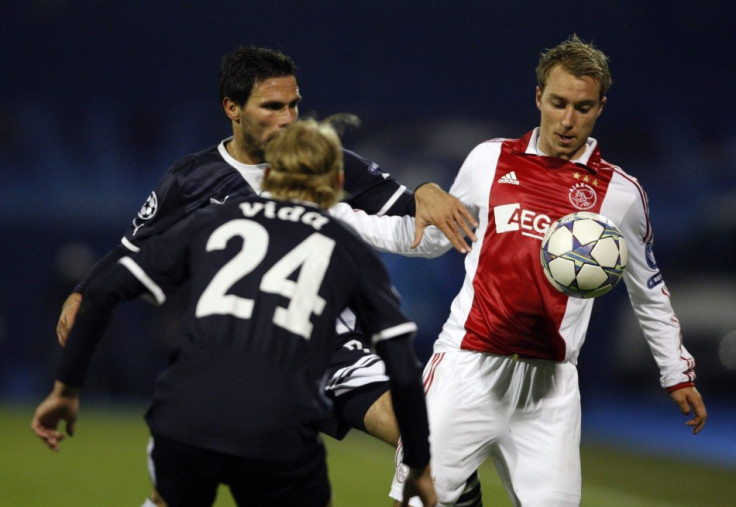 Manchester United's long-standing interest in Ajax's 20 year old Danish midfielder Christian Eriksen may come to nothing unless Sir Alex Ferguson's side moves quickly. A report in the Daily Mail states Russian side Zenit St Petersburg have already opened talks with the Eredivise giants over a possible move. The highly rated midfielder has been linked to the Red Devils on more than one occasion in recent weeks but Manchester City and Chelsea have also expressed admiration in the past, an ESPN report adds.
It seems, in addition to Zenit, there is a second club in talks with Ajax, although it is unconfirmed if this team is Manchester United. In any case, the Russian club are ready to meet the Dutch club's £20mn valuation but Eriksen himself is uninterested in that move, preferring either United or Barcelona. The Mirror reports the player will now speak to Marc Overmars, Ajax's new director of football, to ask if United are bidding for his services, before taking any decision on his future. However, a report in the Metro not only suggests United are the second club but negotiations, according to Dutch television station Sport1, have already commenced.
Everton Defender En Route to Old Trafford?
Meanwhile, Ferguson's interest in signing 27 year old left back Leighton Baines from Everton remains as strong as ever. David Moyes' side values the England defender in the region of £20mn but United believe a fee of £10mn should be adequate, the Daily Mail reports. United have been linked to the player in the past as well, with earlier IBTimes UK reports suggesting a possible player plus cash deal. Baines is being looked at as replacement for 31 year old French left back Patrice Evra, whose poor performances last year suggest his time at Old Trafford is limited.
However, Baines' age - 27 - presents a few problems for Ferguson. For one thing, it will mean the club may have to again go shopping for a new left back sometime in the next three or four years. In addition, recent transfer policies at the club usually involve players below the age of 25; the focus is normally on developing youth rather than big-money transfers. Therefore, should Moyes be reluctant to budge from his asking price, Ferguson may have to go shopping elsewhere. However, what should be good news for the Red Devils is that Everton have well-publicised financial woes and even £10mn would be a welcome cash boost. Meanwhile, Baines himself has played down speculation of a move, insisting he would remain focused on playing for Everton unless otherwise informed. An earlier Daily Mail report also suggested Italian club Napoli are interested in the player.