Everton boss Roberto Martinez has played down talk of a bid for midfielder Marouane Fellaini. The 25-year-old Belgian international has been linked with a big money move away from Goodison Park for most of this summer, with Premier League champions Manchester United and rivals Arsenal circling.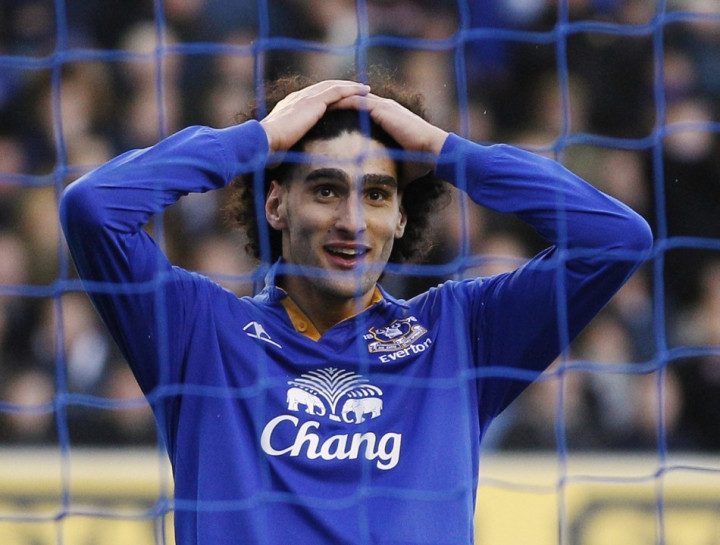 "There are no bids [when asked about Fellaini and United]. When you read someone is interested, it doesn't mean there is a bid. Headlines happen this time of the season but it won't distract me. I'm only concentrating on having as strong a squad as possible. That's all my concern is," the former Wigan Athletic boss told the Liverpool Echo.
Martinez's comments come after reports early in the week about United contemplating a £23.5m bid for Fellaini, in light of their failed pursuit of Barcelona midfielder Cesc Fabregas.
David Moyes, who moved from the Toffees to replace Sir Alex Ferguson at Old Trafford, has already confirmed he wants to sign a central midfielder, having told reporters during the pre-season Asia Tour: "When I got the job, I was made aware of what could be done to improve. Signing a midfield player was one area we thought we could add to the squad."
The Scot initially settled on Spain youngster Thiago Alcantara, a choice justified by the 22-year-old Barcelona-bred player's performances in the European U21 Championships in June; he scored a hat-trick in the final to lead Spain to the title.
However, Alcantara eventually opted to join Bayern Munich, with the lure of working with former Barcelona boss Pep Guardiola too much to resist.
Since then, Moyes and United have been linked with a number of other midfield options, including Real Madrid's Luka Modric and Newcastle United's Yohan Cabaye.
Despite the extensive rumours, there is still little concrete news about who will replace Paul Scholes in the centre of the park and with the new Premier League season only 10 days away, it could well be Moyes begins his first season at Old Trafford with a severely depleted midfield.
And given the champions face Swansea City, Chelsea, Liverpool and Manchester City inside the first month of the season, it could prove an extremely problematic start to the season.
Meanwhile, earlier this summer Arsene Wenger was believed to be ready with a club record bid (reportedly in excess of £20m) to trigger the release clause in Fellaini's contract. That report was followed by a lot more speculation linking the north London club to Fellaini but ultimately a transfer did not materialise, with Wenger understood to be unconvinced by the midfielder's quality.