Manchester United have been handed a major boost in their race to sign Everton star Marouane Fellaini, after the Belgium international reportedly asked to leave the club before the transfer deadline.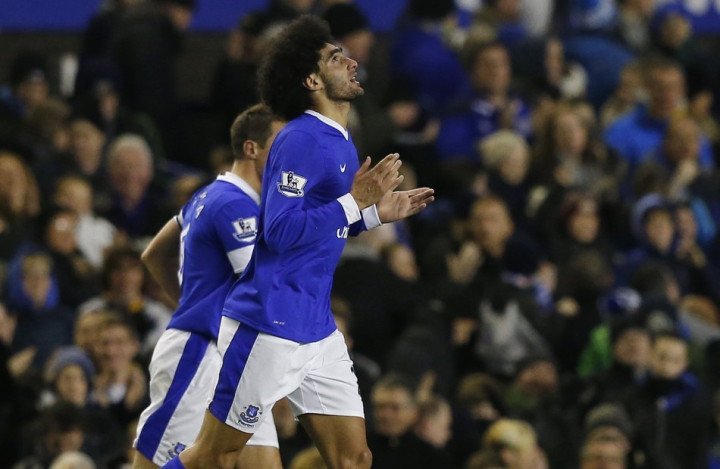 The Daily Mail claims the Premier League champions are preparing a £36m bid to sign Fellaini and his club team mate Leighton Baines, with David Moyes looking to bring his former players to Old Trafford. United have already had a £28m bid rejected by the Toffees, which was termed as "insulting and derisory".
With only hours left in the transfer window, Fellaini has expressed his desire to leave Goodison Park. The 25-year-old has not handed an official transfer request but has verbally informed Roberto Martinez he is keen on joining the English champions.
Meanwhile, earlier reports suggested Baines has also asked to leave the Merseyside club, with a view to re-uniting with his former manager. Martinez has been quick to respond and has sought to dismiss all reports of the England left-back leaving the club this summer.
United are short of numbers in the left-back role, with French international Patrice Evra still the only viable option. And although Evra enjoyed an excellent 2012/13 campaign, Moyes wants to bring Baines to Old Trafford to keep Evra on his toes and provide a long-term replacement; the Frenchman is now 32 years old.
And despite his protestations, Martinez is preparing for alternate solutions to his left-back slot, should Baines force his way out of the club in the next few hours.
"The way you work in the transfer market is to always think about the unthinkable. You always have to work in a way which means that if the worst was to happen, and you picked up one or two injuries, you need to replace players," Martinez explained.
"That's the norm so you always have to work like that. I have told the chairman (Bill Kenwright) I don't want to know anything that's going on (with United). I only want to know the final news. I have had enough of "he said this, he said that" This is sensitive," the Everton manager stressed.
According to the Mirror, Everton have also begun looking for replacements in midfield, where they expect to lose Fellaini, with the Spanish boss keen to raid his former club for James McCarthy.