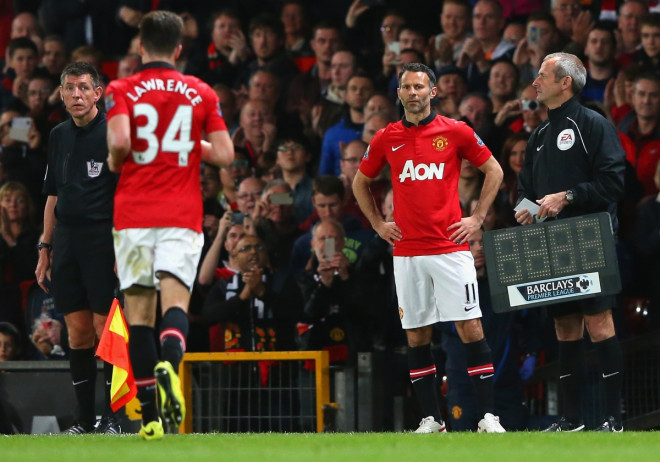 9:46: Thanks for reading and join us on Wednesday evening for more Premier League coverage.
9:43: Giggs has paid tribute to skipper Vidic and promised United fans the good times will be back.
We've had a tough season and you've been spoilt with all the success of the coming years. I'm sure the same will be true in the coming years.
Keep supporting us and the good times will comes back soon. We don't always win but we try and play attractive football. That's what this club is about."
Keep supporting us. You've seen a glimpse of the future tonight. The good times will come back."
9:39: So it's a win for Nemanja Vidic in his last appearance for the club at Old Trafford and a win for Giggs in perhaps his last game here as a player. The interim manager has remained on the pitch to address the crowd.
FULL TIME
Manchester United 3-1 Hull City
(James Wilson, 31, 60, van Persie, 82)
(Fryatt, 62)
9:34: So close from Giggs! The Welshman floats a beauty towards the top corner but Jakupovic, who hasn't read the script, claws it over the bar.
9:33: United win a free kick 30 yards out from goal. Only one man taking this, you sense.
9:31: Januzaj chases down a hopeful ball but David Meyler has a yard on him and ushers the ball out for a goal kick. The young Belgian is felled in his attempts to win the ball and replays show Meyler, who is already booked, looks to have stamped down on the teenager after receiving the decision.
9:29: No goal for Giggs, but this assist is nearly as good as one. Januzaj looks in field to find his manager who clips a deceptive ball through to van Persie who has pulled away from Davies just inside the box. The Dutchman's first effort on goal is blocked but he makes no mistake with the second, rifling a shot into the bottom right hand corner.
Goal! Manchester United 3-1 Hull City (Robin van Persie, 86)
9:26: Van Persie this time tests Jakupovic, cutting in from the left before firing an early effort on goal that is straight at the Hull goalkeeper.
9:23: United march up right the other end with Januzaj once again leading the charge cutting in from the right. The young Belgian this time slides the ball to van Persie who looks to wrap his right foot around the ball from inside the area, but it flies the wrong side of the Hull post.
9:21: Great save from De Gea! United are living dangerously at times as El Muhammady works the ball up the right before cutting the ball back across goal. It falls to Boyd on the edge of the box who hammers a shot on goal that is batted away by the Spaniard and Fryatt is unable to position himself to connect with the follow up effort.
9:18: Fellaini nervously brings the ball up field and fails to spot the surging run from van Persie on the opposite flank. Giggs takes over and delicately clips the ball past his marker as he approaches the byline but his cross is hacked clear.
9:15: Nearly the moment Giggs was waiting for! The manager plays an excellent one two with Kagawa coming in from the right and with the crowd willing him on, looks to curl one into the bottom corner. It takes a nick off a Hull defender and Fellaini can't reach the loose ball, but United want a penalty! Replays suggest the ball took a nick off the outstretched hand of Bruce following Giggs' shot, but appeals are waved away.
9:14: James Wilson is off with two debut goals to his name, what an unforgettable night for the 18-year-old.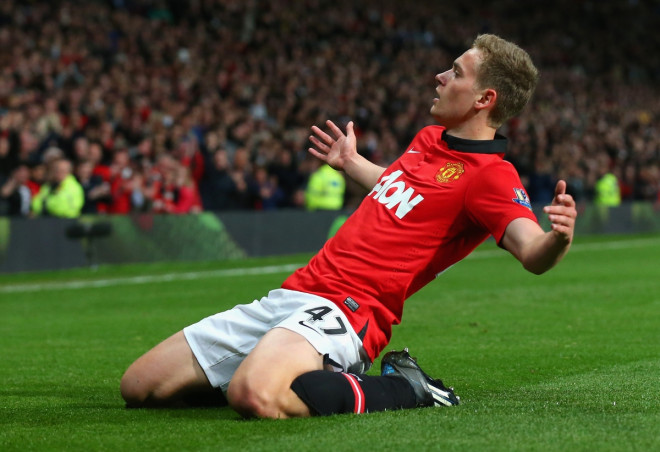 9:13: And the gaffer is on, Giggs enters the fray to replace fellow Welshman Tom Lawrence.
9:10: Another opportunity for Fellaini, once again fashioned by the excellent Januzaj. The youngster tears down the right again and slides across the box where Fellaini is running into the box. It's a more difficult chance than his one earlier but the big midfielder is unable to wrap his foot around it and skies another opportunity.
9:08: No debut hat-trick for Wilson tonight; Robin van Persie replaces the teenager he and could soon be joined by Ryan Giggs who has begun his warm up on the side-lines.
9:06: Hull have one back! A good 25 yards out from goal, Matty Fryatt slides the ball through his marker's legs to work an extra yard of pace and out of nothing guides an excellent shot around De Gea. Fryatt caught the Spaniard off guard perhaps, but it was a brilliant effort.
Goal! Manchester United 2-1 Hull City (Matty Fryatt, 62)
9:03: Wilson has a second! Januzaj knocks the ball ahead of his man and bursts down the right. Curtis Davies is across as he tries to intercept but sells himself and the young Belgian skips past him too. Cutting into the box Januzaj slides the ball into the path of Fellaini who won't get a better chance all season to open his United account, but instead blasts his shot straight at Jakupovic. The balls spills and Wilson reacts quickest again and knocks the rebound in.
Goal! Manchester United 2-0 Hull City (James Wilson, 60)
9:01: Vidic is making a nuisance of himself as the corner comes in and there are appeals for a hand ball but it didn't appear there was much Curtis Davies could have done about that one.
8:59: Brilliant from Januzaj. Again rampaging down the right the Belgian's attempt to slide the ball through to a teammate rebounds back into his path. Rather than going for the pass again, Januzaj bursts past two Hull defenders on his own and only a timely challenge from Meyler prevents the youngster from charging through one on one. Corner kick.
8:56: Januzaj again leads the United charge, driving at the full back down the right before clipping a ball into the centre. It's slightly overhit but Wilson doesn't hesitate as he races to get on the end of it but Jakupovic collects.
8:52: Carrick slides a ball through the middle to Januzaj who has crept in field. The youngster takes the ball under control brilliantly and spins to face goal before firing an effort that draws a half decent save out of the Hull goalkeeper.
8:49: Lawrence tries to drive it under the wall buy Hull block. Valencia picks up the loose ball and finds Januzaj whose cleverly found space in the ball to tee up Wilson. The ball comes at the teenager at a terribly difficult angle but does well to flick an effort towards the far post that just creeps over the bar.
8:46: And we are back underway for the second half and United have an early free kick that Lawrence fancies.
HALF TIME
Manchester United 1-0 Hull City (James Wilson, 30)
8:31: An update on Phil Jones' condition; the defender has been taken to hospital with his arm in a sling.
8:28: Buttner loses possession inside the opposition's half and Al-Muhammady breaks down the right on the counter. Long and Koren have raced into the box to give him options but the Egyptians delivery is a poor one and Vidic is able to intercept.
8:26: United work the ball over to the left flank where Buttner hs advanced into space but once again his delivery is desperately poor, far too close to the Hull goalkeeper who easily collects with Fellaini unable to get on the end of it.
8:23: Fellaini is shown a yellow card after leaving a late foot on Quinn after being robbed of possession. Deserved booking for the Belgian.
8:20: That goal has sparked Hull into life somewhat but they are unable to trouble De Gea after a brief period of possession .
8:16: It's a dream debut for James Wilson! United have a free kick from the right flank that Januzaj lifts over the back post where his countryman Fellaini is well placed. The Belgian knocks it down back across goal and Wilson, positioned inside the six yard box, is first to react and lashes his first senior goal into the back of the net.
Goal! Manchester United 1-0 Hull City (James Wilson, 30)
8:11: More half hearted claims for a penalty as Januzaj again bursts into the box from the right. He skips past one challenge before his cross cannons off Ahmed Al-Muhammady, who really didn't know much about it. United's calls for a penalty are ignored and they resume possession.
8:06: Vidic is on after waiting a good three minutes for a break in play and enters the field as his chant rains down from the stands.
8:04: From that corner Phil Jones comes leaping in to get on the end of it but collides in the air with Figueroa and comes off the worse of the two. More great enthusiasm from the centre half but you have to question was it worth the risk as he goes down clutching his shoulder. Looks as if Vidic's introduction will come earlier than planned.
8:02: Tom Lawrence picks up possession on the edge of the box and powers his way past his marker before lettinf fly with a shot. It's a good effort but it's rising just over the bar. It took a quick deflection and it's a corner.
8:00: Phil Jones is called into his first piece of defending of the night, scampering across to head a ball out of the path of Long. Moments later United click for the first time as Lawrence and Janzuzaj combine brilliantly on the edge of the D but Fellaini fails to control as the ball comes to him.
7:56: Fellaini is starting in an advanced position just off Wilson this evening, perhaps further up the pitch than he has done this season. Shinji Kagawa is occupying a slightly deeper role in the opening 15 minutes alongside Carrick but has been quick to break forward when the chance has presented itself so far.
7:54: Lawrence brings the ball in field and slides the ball into space with Kagawa rushing onto it. The Japanese international is in plenty of space but his low effort is skewed wide.
7:53: Kagawa is found through the middle and opts to take an effort on goal, but his left footed effort is scooped over under pressure from Alex Bruce.
7:50: Penalty appeal from United! Moments later Januzaj is freed again by Valencia but this time cuts inside menacingly past Figueroa. The youngster is felled and replays suggest he was caught by a rash challenge from the Hull defender. The referee however awards a corner rather than a penalty that Hull easily deal with.
7:47: Valencia frees Januzaj down the right flank and the Belgian swings a deep cross into the backpost where Fellaini is well placed to nod it across goal. Suddenly young James Wilson has the goal at his mercy but can't get his shot away! Great chance, but the 18-year-old connects with clean air.
7:46: And we are underway at Old Trafford.
7:42: Anything less than three points tonight will confirm no European football at Old Trafford for the first time in 25 years next season.
7:39: Having named himself on the sub's bench tonight, Ryan Giggs forced Nicky Butt out in front of the cameras ahead of kick off.
We've brought in four lads who have been with the club from a very early age and have come right through the ranks, that is very important for this club. The coaching staff had a chat about it and we thought it was important to bring the young lads in at this point.
They will bring us speed, energy and they will enjoy it and give their all, that has been a big part in picking the squad."
7:28: Hull City meanwhile are safe from relegation and Steve Bruce has taken the opportunity to make five changes including, rather surprisingly, Jelavic, who is cup tied and will miss the FA Cup final against Arsenal later this month.
7:22: Ryan Giggs wrote in his programme notes this evening that he doesn't believe the club need to restructure the squad this summer and his team selection this evening further backs that claim.
I don't buy into the theory that this club needs to bring in lots of new players and sell off a lot of the current squad.
Whoever gets the job will be taking over at a wonderful club. I have hugely enjoyed my time as interim manager, Saturday's game apart, and it has been an honour and privilege to occupy the role. I have seen enough from this position to convince me that the next manager will be inheriting a squad capable of winning honours."
7:14: We have the prospect of James Wilson making way for the man formally known as Ryan Wilson ahead of us tonight. The (much) younger of the two has been rewarded after a fantastic campaign for the Under 21 side and was named on the bench by David Moyes in the 4-0 win over Newcastle last month, but will go one better tonight.
7:05: Ryan Giggs has rung in the changes following Saturday's disappointing defeat to Sunderland. Vidic, Juan Mata, Rio Ferdinand and Luis Nani all drop out of the starting XI as Adnan Januzaj and Shinji Kagawa come in, supporting a strike partnership of 19-year-old Tom Lawrence and 18-year-old James Wilson. Giggs, along with 21-year-old Michael Keane - who is back after an impressive loan spell at Blackburn - take places on the bench.
TEAM NEWS:
Manchester United: De Gea; Valencia, Jones, Smalling, Buttner; Januzaj, Carrick, Fellaini, Kagawa; Lawrence, Wilson.
Subs: Amos, Vidic, M. Keane, Mata, Giggs, Young, van Persie.
Hull: Jakupovic, Bruce, Davies, Figueroa, Elmohamady, Quinn, Koren, Meyler, Rosenior, Long, Boyd
Subs: Huddlestone, Fryatt, Livermore, Jelavic, Sagbo, Harper, Faye.
BREAKING: Ryan Giggs hands first team debuts to James Wilson and Tom Lawrence and names himself on the sub's bench.
6:52: Tonight marks Nemanja Vidic's last game in front of the Old Trafford crowd before he joins Inter Milan this summer. The no-nonsense Serbian, who has captained the club since the 2010/11 season, has enjoyed eight and a half trophy laden campaigns in Manchester but will emerge from the tunnel at the ground he has come to know as home for the last time this evening.
I never considered staying in England as the only club I ever wanted to play for in this country is United and I have been lucky enough to be part of this club for so many years. I've got so many great memories. I never could have imagined winning 15 trophies, including five Premier League titles and the Champions League.
I've played for the greatest manager [Sir Alex Ferguson] and I have learned a lot, not just on the pitch but off the pitch as well.
Manchester United make you feel part of the family. It has been a great experience for me.
I have developed as a man at this club.
Manchester United make you feel part of the family. It has been a great experience for me and my family." [via Sky Sports.]
6:50: Good evening and welcome to IB Times UK's LIVE coverage of Tuesday's Premier League action. In their r penultimate game of the season Manchester United play host to Hull City who will have one eye on their FA Cup final with Arsenal on 17 May.
More great enthusiasm from the centre half but you have to question what is worth the risk as he goes down clutching his shoulder. Looks as if Vidic's introduction will come earlier than planned.