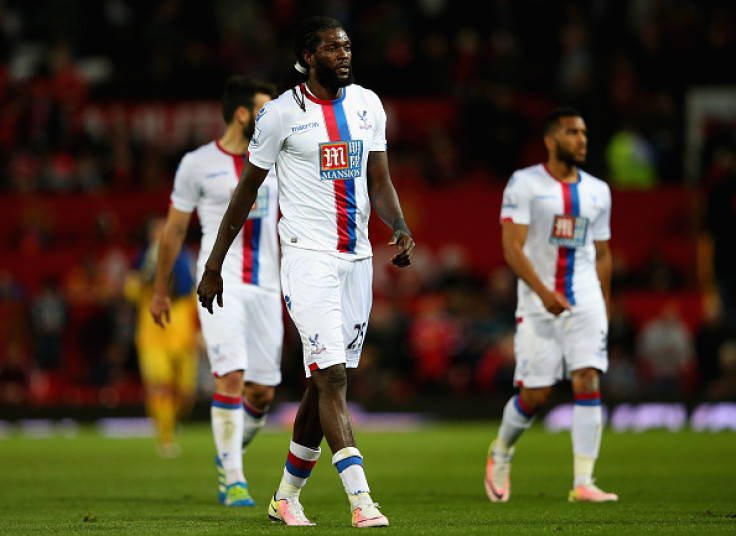 Emmanuel Adebayor has confirmed that he will depart Crystal Palace following their FA Cup final clash against Manchester United on Saturday (21 May). The striker joined the Eagles in January on a short-term contract until the end of the season.
The Togolese forward has been plying his trade in the English Premier League for a decade since his arrival at Arsenal from Monaco in 2006. Apart from his short loan spell with Real Madrid in 2011, he has represented Manchester City and Tottenham Hotspur during his 10-year stay. The 32-year-old has failed to win any silverware in England, with the only medal being in the 2011 Copa del Rey when the Spanish capital club beat Barcelona in the final.
Adebayor is keen to end his spell with the London club with a trophy and believes he will be supporting the club even if he is not named in the squad. He has made 12 appearances for Palace in the Premier League and is likely to be named in the squad for the finals, as they look to end the season on a high as a win will also guarantee the club a place in the Europa League next season.
"I've had six beautiful months with Palace. Pape Souare, Yohan Cabaye, Macca [James McArthur] and Jedi [Mile Jedinak] have all talked to me a lot," Adebayor told the South London Press.
"I'd love to have played more — but that's football. The journey will stop in May — but that's not the end of my journey. It is just a stop. It will continue, wherever I go to."
"I will always wish this club well. It doesn't matter if I start the Manchester United game on the bench or the gaffer decides to put me in the stands — at the end of the day we want to win it. This club wants to win it," he explained.
"Every player — whether they start or not or are not even in the squad of 18 — want the club to win the FA Cup. It is as simple as that."
The former Manchester City and Tottenham striker, however, is keen to remain in England beyond the current season but revealed that he could also move to a club abroad if he does not get an opportunity to remain in the Premier League.
"It is definitely possible [that I move abroad] but you know my love for English football. I am doing everything possible to stay but, if not, I can only say thanks to all the fans, all the journalists, those who criticised me, those who fight for and defend me," the Togo forward told Sky Sports.
"If I have to remain in England; fine. If I have to move on; fine. I came from somewhere to come to England, if I have to move somewhere from England, why not?"