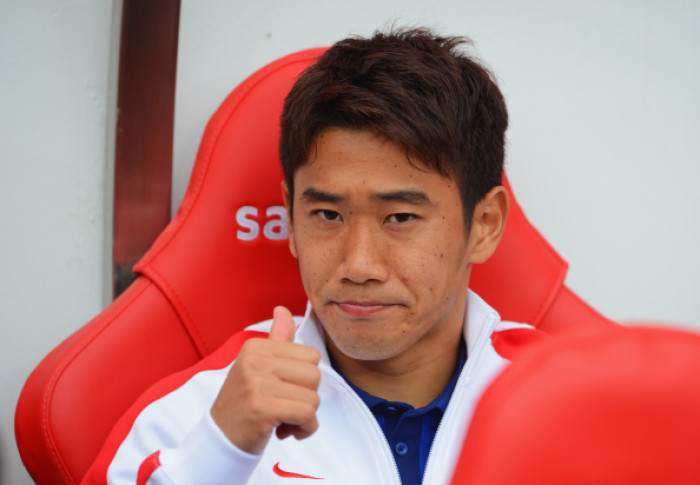 Manchester United would write off £9m on Shinji Kagawa if they sell him back to him to former club Borussia Dortmund.
The Japanese midfielder has reportedly been told by United manager Louis van Gaal that he can leave Old Trafford, with the German club interested in having him back.
But reports in Germany say Dortmund will put just €10m (£7.9m) on the table for Kagawa, which if accepted would see United lose £9m having splashed £17m on him in 2012.
A photo purporting to show Kagawa's agent Thomas Kroth arriving at negotiations with Dortmund representatives has also hastened his departure.
Kagawa, who has two years left on his contract, has been a peripheral figure for United since his move to England, making just 38 appearances under Sir Alex Ferguson, David Moyes and van Gaal.
With Wayne Rooney and laterly Juan Mata occupying his preferred no.10 role, the Japan international has faced being used on either flank. But the pace of Danny Welbeck meant the England international was often selected ahead of him.
Van Gaal has tried to recast him in the mould of a holding midfielder, a position where United have a dearth of options, but was disappointed by the 25-year-old's performance in that role.
"I have tried to play him in that position in the US and he could not fulfil my wishes and my philosophy," van Gaal said following United's 1-1 draw at Sunderland.
After the addition of Angel Di Maria, who can play either as a winger or through the middle, Kagawa's opportunities appear to be dwindling, especially as van Gaal seems to want to play Mata in tandem with Rooney behind striker Robin van Persie.
The arrival of fans-favourite Kagawa would delight BVB and manager Jurgen Klopp who were disappointed to see the midfielder leave the Westfalenstadion after two successful years at the club.