Three cheers for Weird Al Yankovic, our favourite musical comedian, who has finally succeeded in earning his very first No. 1 album on the Billboard 200 charts with his fourteenth studio album, Mandatory Fun.
"WOW!!! I'm incredibly pleased to officially announce that MANDATORY FUN will enter the Billboard album chart this week at the #1 position," Yankovic posted on his official Facebook page.
"Thank you all so much for your support – it means more to be than I can say."
Not only is Mandatory Fun the first comedy album to top the Billboard charts since 1963, it also scored the largest sales for a comedy album since 1994 with 104,000 copies sold in the week ending 20 June, according to Nielsen SoundScan.
Weird Al Yankovic, 54, released his first album in 1983 and has spent the last 30 years entertaining the world with geeky song parodies like the gangsta send-up Amish Paradise, 80s Madonna-esque and Like a Surgeon and hilarious hip hop tune White & Nerdy (which helped Chamillionaire's Ridin' go platinum and win a Grammy).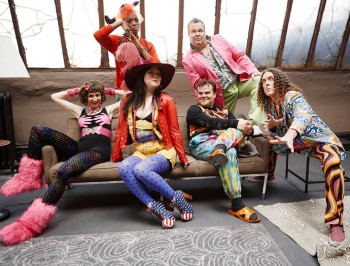 In his career, he has so far sold over 12 million albums, more than any comedy act in history.
Yankovic is also well known for singing the theme song to the hugely successful Nickelodeon cartoon SpongeBob SquarePants and for making guest appearances as himself in numerous films and TV shows, as well as voicing numerous characters in cartoon series like Adventure Time.
With Mandatory Fun, Yankovic engaged in a very clever social media campaign which saw him release one music video from the album online every day for eight days consecutively, with some of the videos debuted with the help of geek-friendly websites, while others were released on his official Vevo account.
At the same time, he also promoted his album as a digital download offering for the sale price of $5.99 (£3.53) on Amazon, so it looks like Yankovic succeeded in making sure his fans avoid pirating his work, as he preaches in Don't Download This Song.
Two of the new songs, fashion don't tune Tacky (a parody of Pharrell William's Happy featuring comedians Jack Black, Margaret Cho, Kristen Schaal, Aisha Tyler and Eric Stonestreet) and the lazy modern grammar-slamming Word Crimes have gone viral on social media already.
For your viewing pleasure, we've compiled all of the videos here for you in order of release:
1. Tacky
2. Word Crimes
3. Foil
4. Handy
5. Sports Song
6. First World Problems
7. Lame Claim to Fame
8. Mission Statement