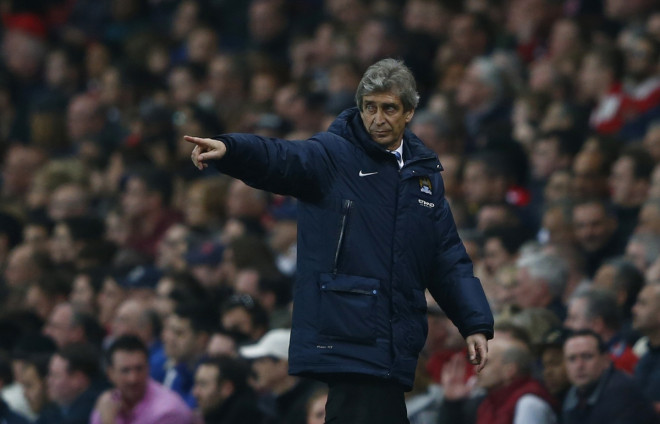 Manchester City manager Manuel Pellegrini has warned Arsenal, Chelsea and Liverpool that his side remain the favourites for the Premier League, despite missing the chance to go top on Saturday.
After Crystal Palace beat Chelsea, City could only draw 1-1 with Arsenal at the Emirates Stadium to go within two points of the summit with two games in hand.
Ahead of facing Tottenham Hotspur at Anfield, Liverpool now know that seven consecutive wins from now until the end of the season will deliver the title but Pellegrini is keen to note that his City side are also have their destiny in their own hands.
"If Liverpool beat us it's another thing," Pellegrini said. "They have to beat us first but also if we win all our games we are the champions.
"The four teams, including Arsenal, have the chance to win the title. I think it's not easy for the four teams to win all the games from now until the end of the season.
"I think the four teams will drop points because the last part of the Premier League is always more difficult because there are teams battling relegation too.
"You must ask Chelsea today what happened [in their defeat against Crystal Palace]. We have eight games more and a lot of points to fight for."
Liverpool host City on 13 April in a potentially decisive game in the title race, weeks before Chelsea travel to Merseyside as the season reaches the sharp end.
Defeat at Palace courtesy of a John Terry own goal saw Jose Mourinho brand Chelsea's title quest over while Arsenal's third game without a win has all but ended their hopes.
Arsenal manager Arsene Wenger said: "What happens at Chelsea doesn't help us because it does not give us more points here. It just shows that we have absolutely to fight until the end of the season because everybody can beat everybody.
"Chelsea lost at Crystal Palace, so that means all of us have to be careful and consistent. Mathematically we are still in there but it is not in our hands.
"That means you cannot say it is just depending on us and it is not realistic maybe to say that today. We have to look above us and behind us as well, because behind us they are coming as well."
Brendan Rodgers' Liverpool can go top of the Premier League with victory over Tottenham Hotspur on Sunday.