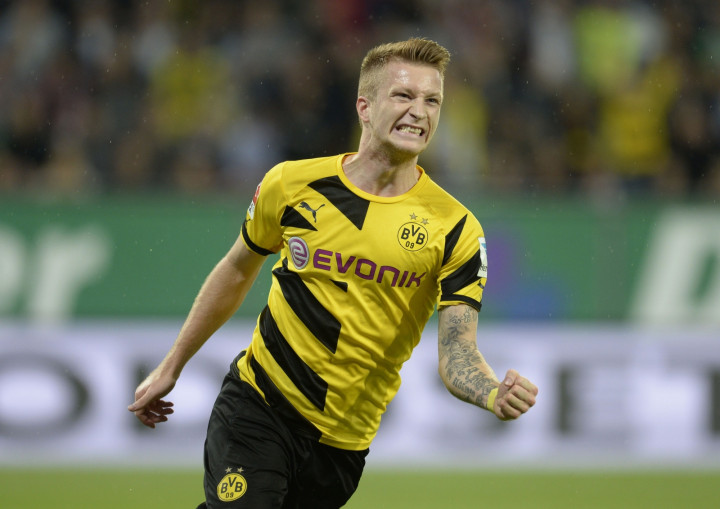 Arsenal and Liverpool face an uphill task in their attempts to sign Borussia Dortmund's Marco Reus after chief executive Hans-Joachim Watzke suggested that the return of Shinji Kagawa from Manchester United has cemented his future with the Bundesliga giants.
Reus has been at the centre of speculation regarding his future this summer, with Atletico Madrid heavily linked with bringing the Germany international to La Liga.
Both Arsenal and Liverpool have been regularly mentioned as having an interest in luring Reus, who has a €30m release clause, to the Premier League but as yet the pair have been unsuccessful.
And their hopes appear to have taken a hit after Dortmund chief Watzke indicated that the future of Reus had been cemented by the re-signing of Kagawa, who became the club's seventh addition of the summer transfer window.
"Marco also sees what's happening here at Dortmund. I don't have any doubts about that," Watzke told Sport Bild.
"Marco and Shinji are very well capable of playing together. We have a number of great players in midfield now. It's the perfect mix of experience, dynamic players and players who can retain possession.
"The stiff competition for places that everybody's been talking about is something I have yet to experience in real life. We have to get to the point where we are able to replace one or two great players each game."
Since reaching the 2012 Champions League final, Dortmund have suffered a series of high-profile player departures including Mario Gotze and Robert Lewandowski, both of whom have moved to domestic rivals Bayern Munich.
Therefore, the club are keen to hold onto their current prized assets including Reus, who has already been linked with a move to Real Madrid in 2015 – while Arsenal and Liverpool continue to monitor his future.
Arsenal and Liverpool were among the most active clubs in the Premier League this summer, signing 14 players between them as they look to keep pace with champions Manchester City and Chelsea in the title race.