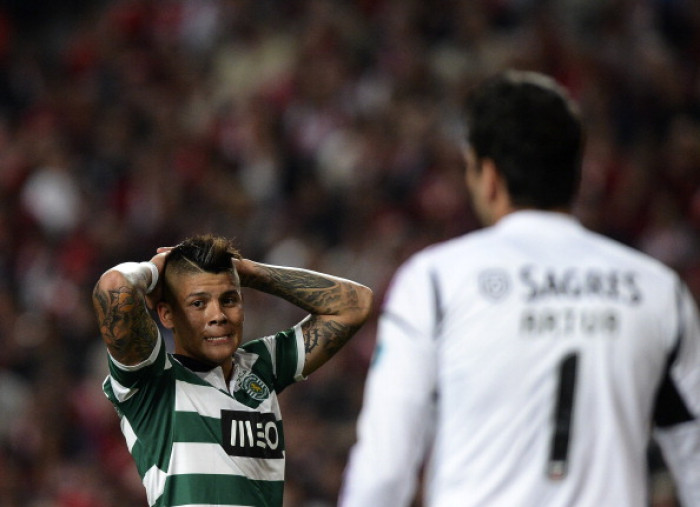 Marcos Rojo has been threatened with being left hung out to dry at Sporting Lisbon for attempting to force a move to Manchester United.
The Argentine defender has reportedly handed in a transfer request at the Portuguese club and threatened not to train as he tries to engineer a move to Old Trafford.
United submitted a £15.9m bid for the versatile defender after losing out on Belgian international Thomas Vermaelen, who instead chose to move to Barcelona.
Rojo, 24, has now been left out of Sporting's league fixture against Academica on Saturday and told he will have to see out the remaining three years of his contract at the club.
Sporting's president, Bruno de Carvalho, has been quoted as saying that Rojo and team-mate Islam Slimani, who has also been linked with a move to the Premier League, will watch Sporting not from the stands but on their televisions.
De Carvalho, quoted by the Portuguese newspaper Record from an interview with Sporting TV, said: "They will not play next weekend. This will take as long as it takes. If something doesn't change, you're going to end up with the players seeing out their contracts.
"They can watch the game on television. On Saturday, against Academica, we will play to win and we will win. There is no player bigger than the club. I would not give up the honour, the club's history, for the attitudes of anyone.
"I give a piece of advice: don't use the press, be professional. These two, in defence of our magnificent group, must be removed. They are subject to strong disciplinary measures. Both players have taken decisions that have caused sharp indiscipline at Sporting."
The president also criticised the pair for talking to the press to force Sporting's hand in negotiations.
Rojo's signing would be United's third of the summer after completing moves for Ander Hererra and Luke Shaw for a combined £57m.
Manager Louis van Gaal had been linked with a move for German World Cup winner Mats Hummels, but the centre back has since ruled out a move to the Premier League and is committed to Borussia Dortmund.