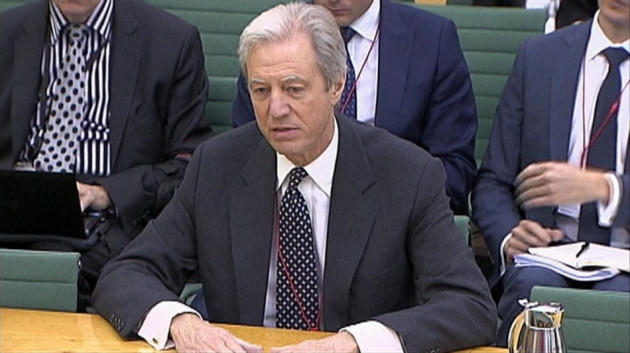 The Treasury Select Committee (TSC) hearing for Barclays' Chairman Marcus Agius proved to be more insightful and less of a public flogging exercise, than we witnessed with newly resigned CEO Bob Diamond on 4 July when questioned about the London Interbank Offering Rate (Libor) rigging scandal.
The TSC Chairman Andrew Tyrie even applauded Agius on two occasions for "acting with candour" and "providing details within this conversation [the hearing] that should have been met last week at Mr. Diamond's hearing]."
Agius was asked more pertinent questions that honed in verbal and written evidence and was notably given more time in providing answers, than Diamond was arguably given.
While Agius' hearing was a step in the right direction in terms of ironing out the details on how much and for how long senior officials at Barclays knew about the fixing of Libor, the first two runs of questioning with Diamond and Bank of England's (BoE) Deputy Governor Paul Tucker on 9 July, provided a decent set of practice runs for MPs who seemed focused on attacking Diamond on behalf of constituents.
That is not to say that the hearing was a resounding success. There are still a lot of unanswered questions, but a more direct use of evidence and facts and calmness surrounding the line of questioning was notably different.
Focus on Calls, Letters and Previous Testimonies
Arguably, MPs were able to vent their anger on behalf of voting constituents on 4 July when Diamond testified in front of the TSC and gather his testimony as a way of making Agius slip.
I say 'slip up' because a major portion of Agius' line of questioning was asking him to corroborate elements from Diamond's testimony and marry up what Agius has stated with what Diamond had previously said.
Several MPs made their frustration over Diamond's testimony clear by saying that Diamond "had deliberately mis-led this committee."
While Agius' repeatedly declined to comment on Diamond's testimony, MPs used Diamond's comments as a benchmark for comparing Agius' answers.
"We have two sets of statements on record that are conflicting. One of them is wrong. Did Diamond mislead this committee?" asked one MP John Mann.
The benchmark for comparison manifested in the form of several documents that MPs would not let Agius' shake off with the standard 'I don't remember' - which is the new 'no comment'.
If it was a period in US court, it would be almost the equivalent of 'pleading the fifth': "I refuse to answer on the ground it may tend to incriminate me."
However, MPs managed to wheedle several key statements which effectively called Diamond's testimony into question.
Several MPs used the, newly dubbed, 'Dear Marcus' letter written by Financial Services Authority's (FSA) Lord Adair Turner on April 10 to Agius.
In the letter, the FSA frequently argued for regulatory approaches "which are at the aggressive end of interpretation" at Barclays.
By repeatedly needling Agius on that letter, MPs found out that Agius "would have" sent a letter to Diamond, suggesting Diamond knew about the Libor issues, risk and regulator concerns, before his previously stated comment that he only knew about the Libor event at the beginning of this month.
"I can't remember what day that was [speaking to Diamond about this] but I remember discussing it with him. I certainly would have given a copy of this letter to him. I can't remember," said Agius.
Furthermore, Agius then said "I was notified first of the investigation and that was the first I heard of any of these practices - or the possibility of any of these practices - in April 2010."
In the same line of questioning, MPs also drilled Agius for more information around the infamous October 2008 call between Tucker and Diamond.
"I was not aware of that note, or that conversation taking place with Paul Tucker until quite recently. Did I talk to John Varley about our anxieties about funding? Yes I did," said Agius.
MPs had the luxury of now having a particularly damning testimony from Tucker, after he ceremoniously threw Diamond under a bus by saying the call "[wasn't] about Libor. It's about the conduct of their Treasury desk in the money markets apparently paying higher rates of interest. Money markets desks can send out distress flags" and that the memo "gives the wrong impression."
"I think it was... I don't think Bob Diamond did misunderstand. It was not remotely in my mind during this conversation that I could be misinterpreted by Bob Diamond or anybody else. I'm not here to defend Mr Diamond's record," he added.
After using these key pieces of evidence, MPs were able to nail Agius on FSA criticisms about the "tone at the top" - in other words, senior officials' steerage and attitude over operations and the banking culture.
After saying a few times that the FSA had given Agius the green light about how "the top" were conducting themselves, MPs quoted a letter sent by Agius' a few days after the 'Dear Marcus' letter, saying that "it was clear that the tone from the top from the FSA is a concern."
Agius subsequently fell silent for a few minutes and said that "this was a forward looking a statement," which again called into question as to how long senior Barclays officials knew about concerns and warnings from regulators over its Libor and funding levels and subsequently the level of senior negligible behaviour they conducted.
Issues around contradiction
While Agius' hearing has borne more fruit than Diamond's testimony, there were a few issues that MPs failed to understand and therefore miss.
MP Teresa Pearce tried to marry up Agius being Chairman of the British Bankers Association (BBA) at the time Barclays was being investigated - suggesting that he was overseeing collusion with the BBA and Barclays' Libor rigging actions.
While, this was an interesting point, there was a demonstration of confusion over the BBA's participation in Libor calculations.
Pearce only has to search online to realise that Libor is calculated for 15 different maturities and for 10 different currencies and are announced once a day at around 11:45 BST by Thomson Reuters on behalf of the BBA.
While the BBA publishes the results, BBA has stated several times over, especially in light of current events, that it owns the trademark and does not calculate the actual rate. It also does not monitor the rate.
MPs on Bonuses: Just Couldn't Resist
MPs love to talk about bonuses. They just can't help themselves.
However, during a key hearing on one of the biggest trading scandals in recent history, it would seem a variable waste of time on focusing on Diamond's severance package.
Although, Agius opened his testimony with answers on Diamond's payoff details, his hearing was thickly peppered with calls over salaries and bonus payments.
After an exasperating deluge of needling over Diamond's severance package, which actually meant he rejected deferred or actual bonus payments, Agius answered on questions over Barclays' wider salary and bonus structure for all employees.
"I don't think it is a matter of culture but managing an extraordinarily difficult situation," said Agius when he was asked whether the amount Barclays' pays all employees was at a reasonable level. "We have had to try and strike a balance. If we reduced salaries too fast, people would leave. We have a long way to go; we are very sympathetic to shareholders. But it's too simplistic to think that we will solve all problems by just reducing salaries."