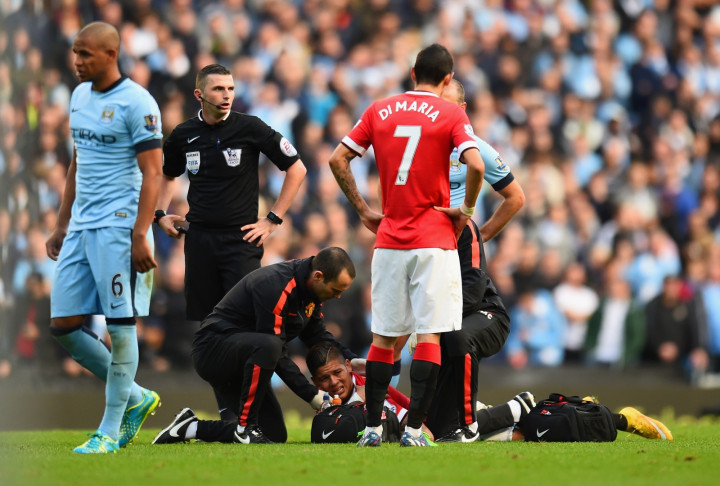 Manchester United defender Marcus Rojo has revealed that he went on strike at Sporting Lisbon in order to facilitate a move to Old Trafford this summer.
The Argentine international was signed for a fee in the range of £16m in the summer but is currently out of action with a dislocated shoulder, which should keep him out of their game against Arsenal at the Emirates. The defender has slotted seamlessly into the squad and has been an asset for the Red Devils, in what has otherwise been an insipid start to their campaign.
Rojo revealed how former United man and compatriot Sebastian Veron intervened on his behalf to solve the crisis and calm him down. The defender added that he had already started to live the dream and was completely crestfallen when reports of the move breaking down started making the rounds.
The Argentine is grateful to Veron for calming him down and making him go back to training which helped secure the transfer.
"It was a huge surprise when I was told United wanted to buy me," Rojo said.
"I was in Portugal when my representative told me. He asked me to stay calm but I could not. I started living this dream.
"I could not think of anything else. I would call him every day, but when it seemed the transfer would not happen then I refused to work with Sporting.
"That was when Veron played his part in the process. He was like a strict father to me, scolding me.
"Veron called me one day when I had refused to train with Sporting and said 'Do not be stubborn. If Manchester United wants a player then they will not let you escape.'
"And so I went back... and the transfer went ahead," he added.
Rojo also shed some light on his first day at Old Trafford, stating that he was overwhelmed by the amount of support he received from United fans.
"I could not believe the welcome I received in Manchester," he explained.
"For the first home game, I was on the way to the stadium with my team-mates, when I saw that the fans were buying scarves with my face and name on them.
"I couldn't believe it. I took some photographs on my phone to send to my girlfriend," he concluded.