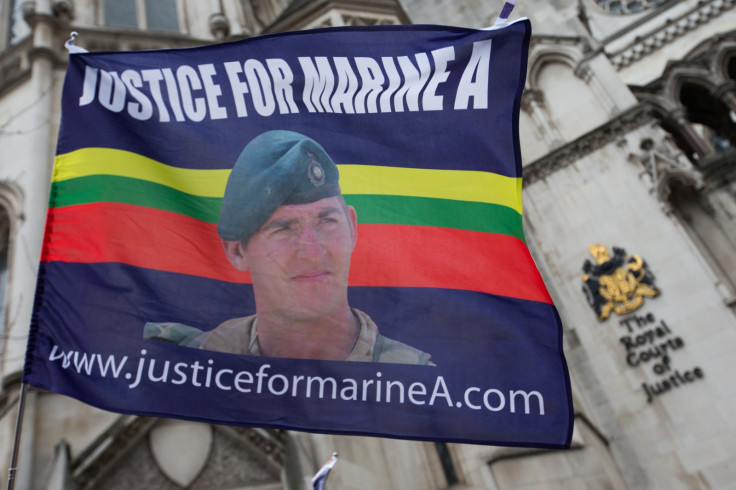 A decision on the sentence of British Seargent Alexander Blackman, also known as Marine A, will be made on Tuesday 4 April. It was thought that Blackman, who killed a wounded Taliban soldier in Helmand Province in 2011, might walk free today. His conviction was reduced from murder to manslaughter on 15 March.
A sentencing hearing began this morning at The Court Martial Appeal Court inside London's Royal Courts of Justice. At around 12.15pm, judges announced that they were deferring their decision.
On 15 March Blackman's conviction was reduced from murder to manslaughter after appeal judges heard fresh evidence about his mental state when he killed a wounded Taliban soldier.
The 42-year-old from Taunton, Somerset, had previously been handed a life sentence with a minimum of 10 years, through this was later reduced to eight.
A panel of five judges led by Lord Chief Justice John Thomas heard Blackman's appeal during a two-day hearing in February. They heard psychologists claim that the marine was suffering from combat stress disorder when he pulled the trigger.
Jonathan Goldberg QC argued that this new evidence meant Blackman's conviction should be quashed on grounds of diminished responsibility.
The court heard that Blackman had a history of depression and had succumbed to feelings of isolation while in Afghanistan. He was also affected by an earlier grenade attack that nearly killed him.
During a 2011 tour of Helmand, Province Blackman shot a wounded Taliban fighter in the chest with a 9mm pistol at close range. Video footage of the incident showed Blackman taunting his victim as he killed him. He said: ''There you are. Shuffle off this mortal coil, you c***. It's nothing you wouldn't do to us.''
After discharging his weapon, he adds: ''Obviously this doesn't go anywhere, fellas. I just broke the Geneva Convention.''
Sergeant Rob Driscoll, who was on operation in Afghanistan at the time of Blackman's offence told The Telegraph that Blackman should never have been charged with murder: "I genuinely don't think that it ever should have happened. I just don't understand why he has been so badly treated and I am anxious to see how he will be treated now.
He added: "I think that it has all had a really significant impact on efficiency of our Armed Forces. There are young lads still in the Marines that will have these considerations to make and I am not sure how that will affect our operational capability."