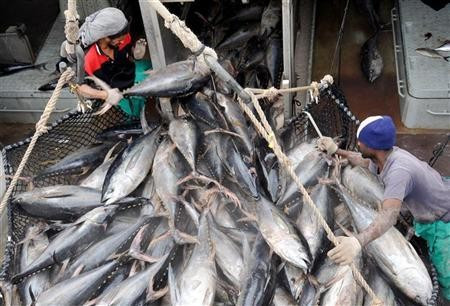 Up to an eighth of the Pacific's marine species could be wiped out, according to the International Union for Conservation of Nature (IUCN).
Researchers from the IUCN, in association with those from NatureServe and the Marine Conservation at Conservation International, have found the species in the affected regions face threats from over-fishing, habitat loss and increasing impact of the El Nino Southern Oscillation.
The scientists analysed several places and discovered that the areas of greatest threats were in the Gulf of California and the coastlines of Panama and Costa Rica.
The team, led by Beth Polidoro, also documented research across several marine groups, including many populations of commercial fish, coral reef fish, reef-building corals, mangroves and sea grass.
Of those surveyed, two species of commercial marine fish - the Totoaba and the Giant Sea Bass - have been listed as critically endangered. These species were once common in the waters off southern California and the Gulf of California in Mexico. Both species have become sought after in restaurants worldwide and have demonstrated limited ability to cope with severe over-fishing.
In recent years, more than 20 marine species have gone extinct across the world and more than 133 local populations of marine species have suffered similar fates. These include the endemic Galapagos Damselfish - which also known as Azurina eupalama - during the events of El Niño from 1982-83.
Researchers believe that conservation action should be taken for both marine species and the geographic areas where they are most threatened. Places like the Clipperton Island in the eastern Pacific Ocean are highly threatened and the authorities have been urged to take some action to protect these marine species.
The researchers also found that certain areas along the coasts of Costa Rica and Panama displayed mangrove erosion; mangrove acts as fishery nursing grounds.
According to the researchers, saving threatened species is the single most important thing we can do to safeguard ocean health, which benefits millions of people that depend on marine life.
"Understanding species vulnerability to major threats is paramount for determining how species and marine environments are likely to respond to one or more simultaneous threats," said Beth Polidoro, an Associate Researcher from the IUCN Marine Biodiversity Unit, adding, "Identification of threatened species and patterns of threat in the tropical eastern Pacific region can help guide local and regional marine conservation priorities for biodiversity conservation, as well as serve to inform policy."
"There are tangible steps that we can take to curtail the risk of extinction of species in the tropical eastern Pacific," said Tom Brooks, Chief Scientist at the NatureServe.