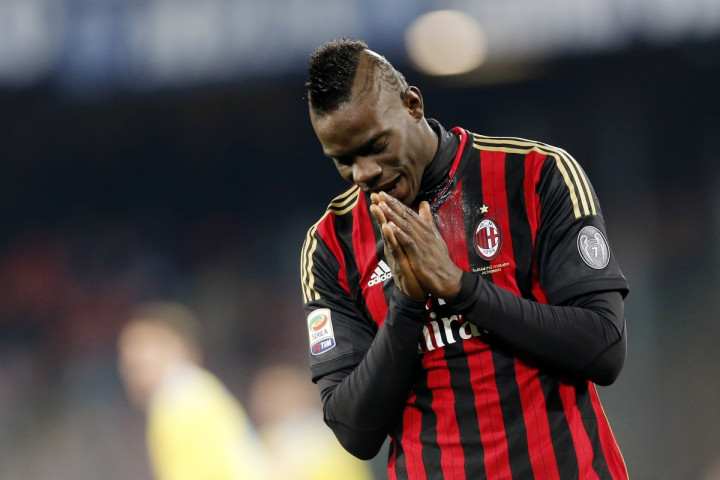 Mario Balotelli has cast doubt on his AC Milan future, after being linked with Arsenal during this summer's transfer window.
Arsene Wenger has made acquiring a striker a priority this summer, after seeing Giroud struggle to shoulder the burden all on his own in the previous campaign. The Gunners boss has been linked to various strikers, but Balotelli and Croatia's Mario Mandzukic are the two names most talked about.
Earlier in the week it was reported that the Serie A forward's agent Mino Raiola was meeting Arsenal representatives regarding a move back to England. He was also talking about Arsenal and his client's future, and was quoted saying "anything is possible".
However, the Milan forward, who has been talking about Italy's World Cup campaign, was coy when asked about his future and a possible move back to the Premier League. Balotelli claims that he is only focused on the tournament and does not know anything about his future at the moment.
"I'm concentrating on the national team and the World Cup, what comes later, we will see. I know nothing," Balotelli said.
"I'm experiencing this tournament with a great piece of mind. I experience no pressure, nor anything of the sort. I want to go as far as I can in the World Cup and score as many goals as possible. But the important thing is that the team wins. For me, the World Cup is more important than the Champions League or the Ballon d'Or."
"I hope it's not Mario's World Cup, but Italy's World Cup. I don't want to be the star, I want the team to win," the Italian striker added.
Balotelli spent almost three seasons with Manchester City before leaving for Italy in January 2013. The Italian striker was impressive for AC Milan last season, netting 14 goals and providing six assists in the league.
Meanwhile, Arsenal might have competition from AS Monaco as they are also keen on acquiring former Manchester City forward's services. However, the north London side could have an edge over the French club, as it is being reported that AC Milan are interested in taking Gunners striker Joel Campbell on loan in exchange of Balotelli's signature.