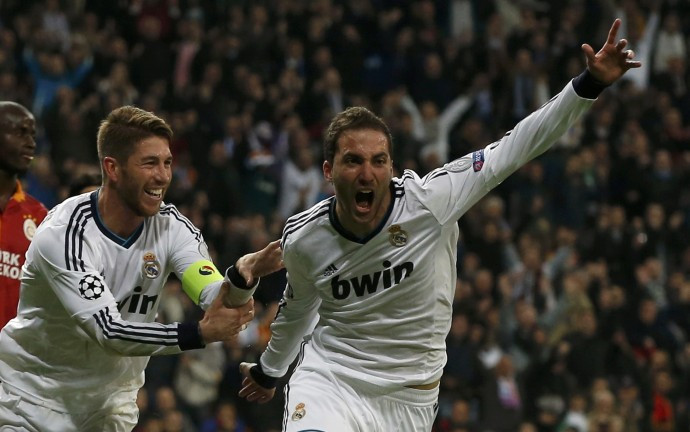 Arsenal and Barcelona are set to miss out on Gonzalo Higuain as Napoli plan to increase his buy-out clause to €60 - 70m (£48 - 56m) to keep the Argentinian star at San Paolo, according to reports in Italy.
Spanish newspaper Marca reported the former Real Madrid star was on the verge of moving to the Camp Nou after agreeing personal terms to join the Catalan giants.
The Neapolitan club denied it straight away though, saying on its Twitter account: "The journalistic indiscretions according to which @G_Higuain could be transferred to @FCBarcelona lack any foundation."
However, Higuain fuelled the rumours claiming it would be "a great pleasure" to play in the same team as Lionel Messi.
Messi himself has revealed he was looking forward to reunite with his Argentinian teammate at the Camp Nou.
"I'd love for Higuain to come to Barcelona, we could use him. But today, I'm only thinking about the World Cup," Messi was quoted as saying by Sport.
However, according to Sport Mediaset Italy, the Neapolitan club want to keep the Argentinian star in their ranks, and after paying Real Madrid €40m to secure his services just last summer they are not open to negotiations.
In fact, Napoli plan to increase his buy-out clause as they did with Edinson Cavani – the Uruguayan left the Italians last season to play for PSG, who finally had to pay the €63m clause.
This forces any club interested in Higuain to deposit the money and talk directly with the player.
The striker had looked set to join Arsenal last summer after the player's father and agent told Fox Sports Latin America that a final resolution was close. "We managed to get permission from Real Madrid to negotiate face to face with Arsenal," he said. "Fortunately, I will soon be able to watch my son play in the Premier League." – However, the deal was hijacked by Napoli.
Higuain has had a great campaign for Rafa Benitez's side, scoring 17 goals in 32 league appearances.