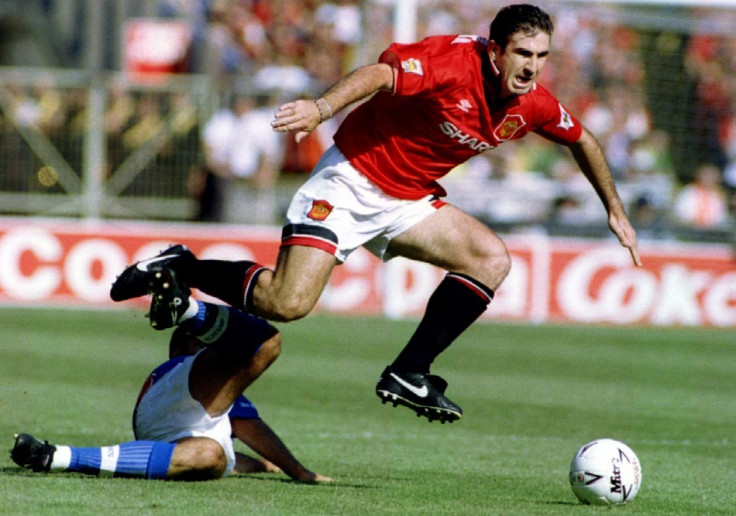 Ian Wright believes Manchester City forward Mario Balotelli is a maverick like Manchester United legend Eric Cantona, but he must learn to control his volatile temperament before he can be compared to Old Trafford's illustrious Frenchman.
The Manchester City youngster was dismissed during their important Premier League encounter at Anfield on Sunday, and although Wright believes the striker's "reputation went before him", he believes Balotelli must learn the importance of putting the team first, in the same way Eric Cantona did at Manchester United.
Cantona is widely considered one of the Premier League's greatest ever players and perhaps Sir Alex Ferguson's finest signing as Manchester United boss, but like the controversial Manchester City star, the mercurial Frenchman was not without his problems when he first arrived in English football.
Wright believes the precocious Manchester City forward must find a balance in his behaviour because on occasions he is crossing the line from "maverick" to liability too often, intimating Eric Cantona's career at Manchester United should be used as an example to the 21-year-old.
"Everyone knows how brilliant he (Manchester City's Mario Balotelli) can be, and there is a place for mavericks in the great sides." Wright told The Sun.
"The obvious example is Eric Cantona at Manchester United, although the big difference was that for all his brilliance, he knew the important thing was the team, not the individual.
"With Eric, the pros massively outweighed the cons, and that's a balance Balotelli has got to put right with Manchester City.
"Come the end of the season, they will be playing a lot of high pressure, intense games, and they will need everyone together, pulling in the same direction.
"You can't afford to have someone out on a limb, and that's why Mancini or whoever needs to tell Balotelli 'you're young, you can be part of something great here, but you have to stay focused.' I'm not saying Balotelli will cost City the title, but he could have cost them dear at Anfield and he won't do the cause much good if he's banned and unavailable for the business end of it.
"City are on the threshold of magnificent things, and the way they overcame the loss of the young Italian at Liverpool was further proof of how things have changed at the Etihad."
In the aftermath of Manchester City's 1-1 draw with Liverpool which ensured they remained unbeaten and still five points ahead of their nearest rivals Manchester United, Roberto Mancini claimed his young forward was very unfortunate to be dismissed and suggested some of Kenny Dalglish's players' were culpable in getting the Italian international sent off.
"My impression is the referee gave a free kick and didn't want to give the yellow card, but he did after all the Liverpool players went there," Mancini said.
"I'm disappointed with him [Balotelli] for the first yellow card but not for the second. I have said many times Mario can do everything. We can't change him in one month and today he didn't deserve it. The last three months he has played well and scored goals. He is an important player for us."