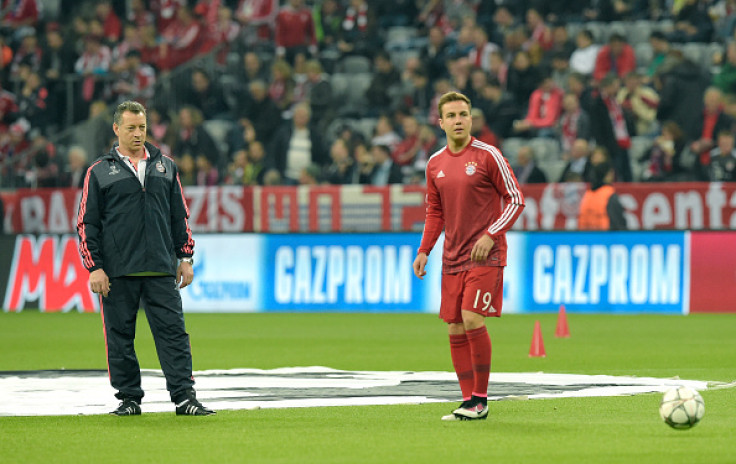 German manager Joachim Low has backed Mario Gotze's decision to commit his future to Bayern Munich amid talk of a potential summer move to Liverpool. The midfielder fell out of favour at the Allianz Arena under former manager Pep Guardiola, which saw him make just 21 appearances in all competitions prompting speculation of an impending departure.
According to the Sun, the Reds were keen on Gotze and were closing in on a £20m ($29.4m) move for the German midfielder. Jurgen Klopp is aware of his talents after the duo's time together at Borussia Dortmund and a reunion was said to be on the cards as former Liverpool players urged the manager to pull out all the stops to complete the midfielder's signing.
The 23-year-old German international, who is currently injured, has however, ended speculation with regards to his immediate future by stating that he is looking forward to starting the new season under Carlo Ancelotti, who is taking over from Guardiola, after the Spaniard decided to take over the reins at Manchester City. Gotze will have just one year remaining in his contract once the new season gets underway with no fresh offer yet from the Bavarian giants.
Gotze admitted to having held talks with Ancelotti regarding his future and contrary to reports, which stated that the Italian had asked him to find a new club, Joachim Low has revealed the new manager's actual words, which was pertaining to all the Bayern players rather than just the former Dortmund midfielder.
"I've been in constant contact with Mario and he's kept me informed all the time," Low said at a press conference on Wednesday, as quoted by the Mirror.
"He's had a long talk with Ancelotti and I think a few falsities were said about that, but a coach can never give a guarantee and he told Mario that everybody starts from scratch from the start of the season under him."
"Mario has had offers, but I always felt he is in Munich with his heart and he wants to prove himself there. He told me he wants to stay in Munich and take his chance with the new coach and I think that's a fine decision because it's what his feeling tells him to do, so it's the right decision for him," the German manager added.