Mark Carney vs Unite: What the Bank of England strike is all about
The UK central bank faces its first strike in 50 years as support staff walkout over paltry pay rise.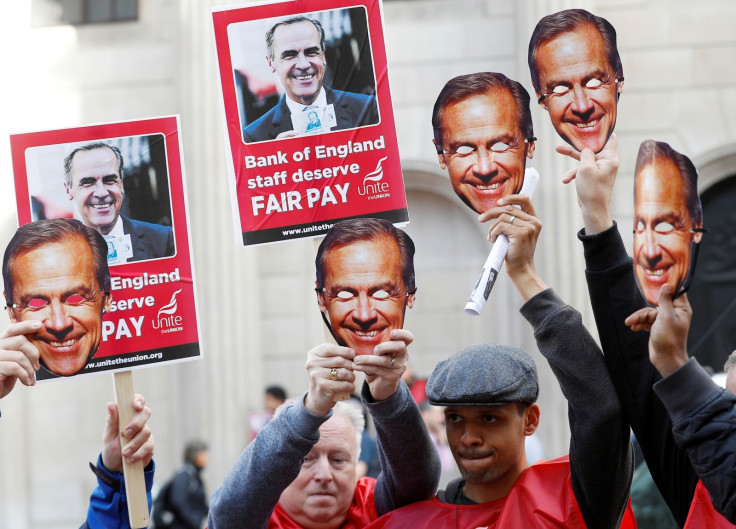 It may not be a mega stoppage or a massive disruption, but historic nonetheless as Tuesday (1 August) saw the first strike at the Bank of England in over 50 years triggered by support staff who walked out in a row over a paltry pay rise offer.
The three-day strike involves the UK central bank's security and maintenance personnel and would overlap with the BoE's so-called 'Super Thursday' which will see the central bank reveal its latest interest rate decision, the minutes of its Monetary Policy Committee meeting and its economic forecasts.
Around 150 support staff are on strike, some 15 of whom were spotted picketing outside the bank wearing governor Mark Carney masks, flanked by officials from the union Unite and the opposition Labour party's shadow chancellor John McDonnell.
A spokesperson for Unite told IBTimes UK it is seeking a 'fair and just' pay rise for its members as many of those affected earned less than £20,000 per annum.
As for Carney himself, according to the BoE's latest available accounts, the governor was on a package of £879,000 last year. That includes a salary of £480,000 per annum, £252,000 in taxable benefits and £5,000-a-week in housing allowance.
By contrast, even Prime Minister Theresa May's salary of £144,000 per year comes up short. The government remains under pressure to end a below-inflation 1% cap on public sector pay rises, in place since 2013, as part of its efforts to cut government spending.
While the BoE is operationally independent of the government, it too has limited pay rises to 1% for most staff, in line with other public sector outfits.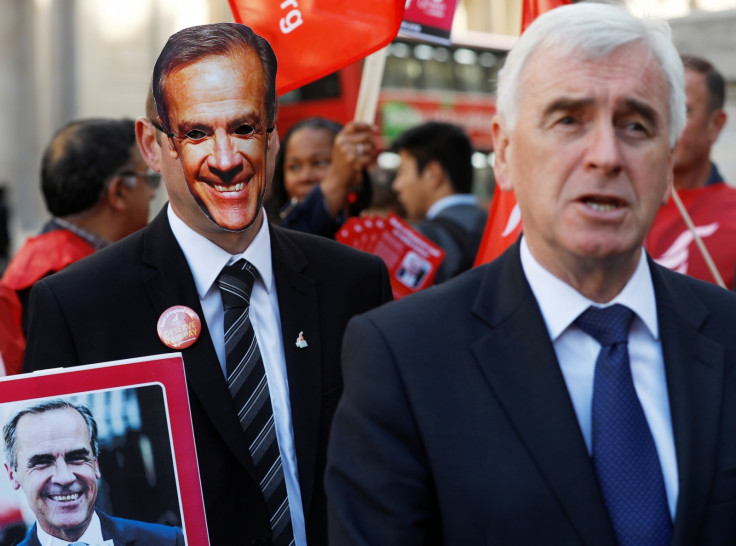 In a statement, the Bank said: "We have been in talks with Unite up to and including today and remain ready to continue those talks at any time."
However, it added that Unite had merely balloted around 2% of the BoE's workforce of over 3,600, and that it had plans in place to operate effectively.
For its part, Unite's riposte - if the BoE fails to resolve the pay dispute, it would consult its "other members" at the central bank in departments "beyond just maintenance and security" on further industrial action.
Expect more of the same, and a few more Carney masks.
© Copyright IBTimes 2023. All rights reserved.