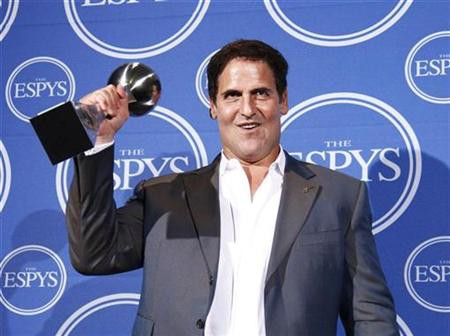 Mark Cuban has issued an apology to the family of murdered teenager Trayvon Martin after admitting that he would cross the street if he saw a 'black kid in a hoodie'.
The billionaire Dallas Mavericks owner sparked controversy when he revealed that he was also guilty of being prejudiced and bigoted.
"I know I'm prejudiced and I know I'm bigoted in a lot of different ways. If I see a black kid in a hoodie on my side of the street, I'll move to the other side of the street," he told INC magazine at the GrowCo conference in Nashville.
"If I see a white guy with a shaved head and tattoos, I'll move back to the other side of the street. None of us have pure thoughts; we all live in glass houses."
Cuban, who is also an entrepreneur and TV personality, was at the annual event to discuss his road to riches and impart some wisdom to young business owners.
His remarks prompted a barrage of complaints from critics, who drew comparisons to the killing of Martin, who was shot dead by George Zimmerman in 2012.
The community watchman claimed he shot the teenager in self-defence after a fracas ensued between the two. His acquittal in July 2013 sparked nationwide protests.
Cuban took to social media to apologise to Martin's family.
The 55-year-old tweeted: "In hindsight I should have used different examples. I didn't consider the Trayvon Martin family, and I apologise to them for that. Beyond apologising to the Martin family, I stand by the words and the substance of the interview."
He later added: "While we all may have our prejudices and bigotries, we have to learn that it's an issue that we have to control. That it's part of my responsibility as an entrepreneur to try to solve it."
Cuban's comments come weeks after audio surfaced online of Los Angeles Clippers owner Donald Sterling making racist statements about black people.