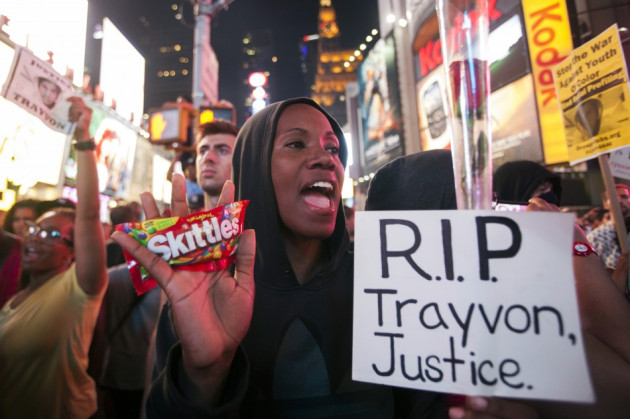 Thousands of people have marched through New York, Los Angeles, San Francisco and Boston to protest against the acquittal of George Zimmerman who was on trial for the murder of unarmed Florida teenager Trayvon Martin.
In New York, more than 1,000 people chanting "Justice for Trayvon Martin" made their way from Union Square to Times Square, where a sit-in was organised after the jury found Zimmerman not guilty.
The protests have been peaceful.
President Barack Obama and other civil rights leaders urged calm despite widespread outrage over the acquittal in a racially charged case.
Black leaders such as Benjamin Jealous, president of the National Association for the Advancement of Coloured People (NAACP), said the case in which the white-Hispanic Zimmerman killed Martin met the criteria for an inquiry by the Department of Justice.
Zimmerman, 29, followed and shot dead unarmed 17-year-old African-American Martin in February 2012. He was carrying only a bag of sweets on his way home. On the night he died, Zimmerman called police and used the words "f**king punks" and "these a**holes, they always get away".
The six-woman jury in Florida said that Zimmerman was not guilty of murder and accepted his claim that he acted in self-defence.
Jealous, who is the head of the US's largest black advocacy group, said race "was a factor in why he [Zimmerman] targeted young Trayvon".
"We are outraged and heartbroken over today's verdict. We will pursue civil rights charges with the Department of Justice, we will continue to fight for the removal of stand-your-ground laws in every state, and we will not rest until racial profiling in all its forms is outlawed."
The Justice Department said its prosecutors had to "determine whether the evidence reveals a prosecutable violation" of criminal civil rights statues within its jurisdiction.
A spokesperson said: "Experienced federal prosecutors will determine whether the evidence reveals a prosecutable violation of any of the limited federal criminal civil rights statutes within our jurisdiction and whether federal prosecution is appropriate in accordance with the department's policy governing successive federal prosecution following a state trial."
President Barack Obama called the death of Martin a "tragedy" but urged calm on the basis that a jury had reached a verdict.
"I know this case has elicited strong passions. And in the wake of the verdict, I know those passions may be running even higher," Obama said.
"But we are a nation of laws, and a jury has spoken. I now ask every American to respect the call for calm reflection from two parents who lost their young son."
Earlier, Benjamin Crump, a lawyer for Martin's family, said the boy's parents were thinking of a civil action against Zimmerman. "They deeply want a sense of justice," Crump said.