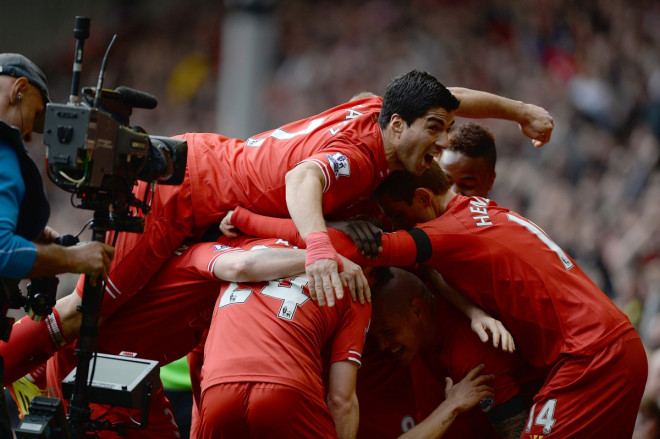 Liverpool legend Mark Lawrenson believes the Reds will have an advantage over Chelsea for the league tie due to the Blues' Champions League semifinal fixture.
The fixture between Liverpool and Chelsea at Anfield on 27 April is sandwiched between the Blues' two-legged Champions League semifinal tie against Atletico Madrid. The Anfield favourite believes the European clash for Jose Mourinho's side would be a boost for the Reds' league clash on Sunday.
Brendan Rodgers has seen his side not suffer a defeat this year as the Merseyside club sit on top of the table after their 2-3 victory over Norwich City. Title contenders Chelsea and Manchester City slipped as they failed to win their respective league fixtures.
Liverpool have 80 points from 35 games and are leading second place Chelsea by five points. City are nine points behind Liverpool with two games in hand. The Reds are yet to face the west London club in the league.
"For me, Chelsea's scrappy comeback win over Paris Sainty-Germain is a major boost for Liverpool with the Londoners' visit to Anfield next Sunday coming slap bang in the middle of their two-legged Champions League semi-final against Atletico Madrid," Lawrenson told the Liverpool Echo.
"Weeks ago, I was being stopped by people in the streets saying to me "your old team is going to do it this year, aren't they?" That groundswell of opinion has since grown and grown. Now there is talk that Liverpool are destined to win the league."
"I'm not sure I believe that, but it's hard to argue that certain factors are combining to aid their quest for that elusive title. And it's certainly true that champions often benefit from fate giving them a helping hand.
"Against City last weekend, Liverpool were aided first by Yaya Toure limping off and then Vincent Kompany dropping a rare clanger. In the season of the 25th anniversary of the Hillsborough disaster, many people believe it would be fitting for the Reds to win the Premier League.
"In the same manner, there are those who reckon Steven Gerrard deserves to lift the championship. What is for certain is the opportunity is there for Liverpool. It is up to them to take it - and prove destiny truly is calling," he said.